This is the second post on Ikea hacks, where I share how I upcycle simple items from Ikea using just paper and glue.
Last time I showed you different decoupage options for a small picture frame, a very easy project for complete beginners. This time I've used a framed mirror called Malma  which costs just £1.50! It's more of a decorative than a practical item: a wide frame surrounding a tiny mirror, which means you have a generous area to decoupage. The surface is matt white and totally plain so no preparation is necessary.
On the right you can see the framed mirror before decoupage and the papers I used: a floral napkin and a wallpaper sample with some lovely birds. You could use either or both: I normally favour very thin paper for decoupage but for this project I wanted to explore the possibilities of wallpaper as an extra layer.
The wallpaper was a free (I picked up a sample from a local D.I.Y. store when I was looking for options for a feature wall) and napkins like this one cost 30-50 pence. The only other material I used was Modpodge matt glue – you can buy a small pot of 236 ml for £2.60. So for under £5 you could create a fabulous and original mirror frame like the one above for your home or to give as a present.
Below you can see how the pattern evolved – I applied pieces of napkin first, keeping in mind I wanted to use three or four birds cut from the wallpaper on top, as a final layer.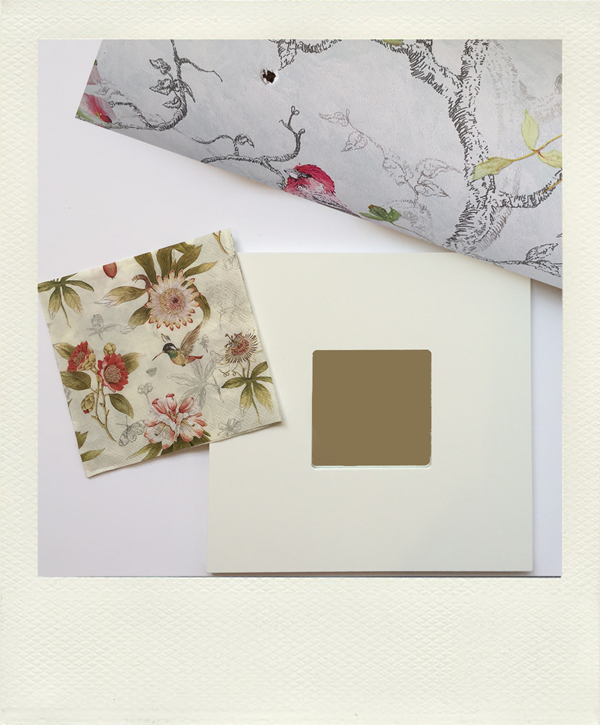 Building up the decoupage pattern with napkin fragments: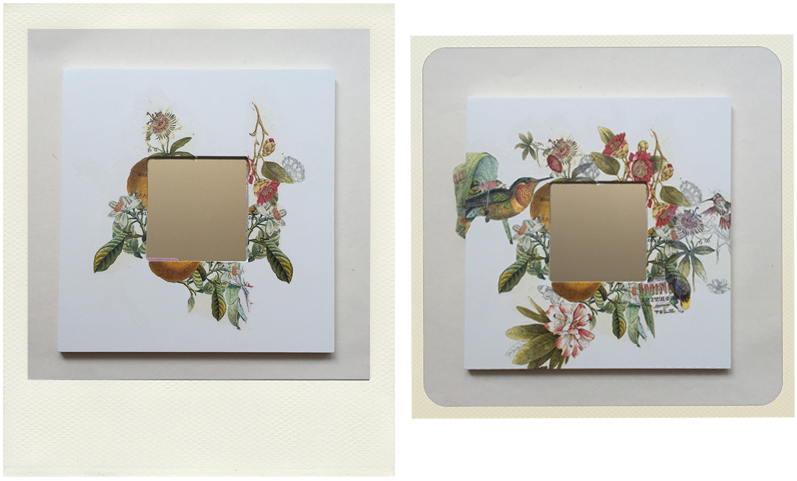 Next I cut the birds I wanted from the wallpaper sample and placed them on the frame: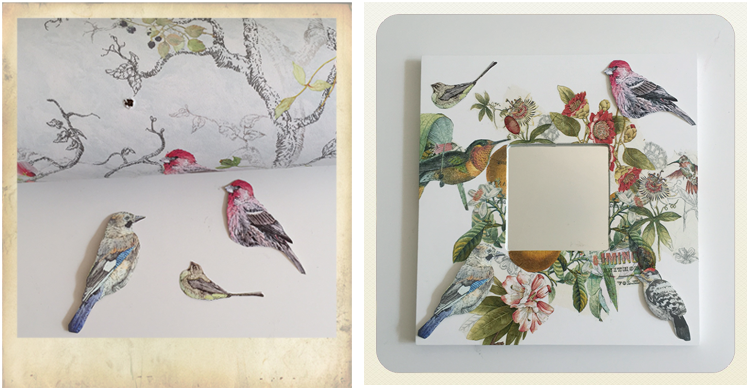 After a few more layers, here is the finished item displayed on a studio shelf!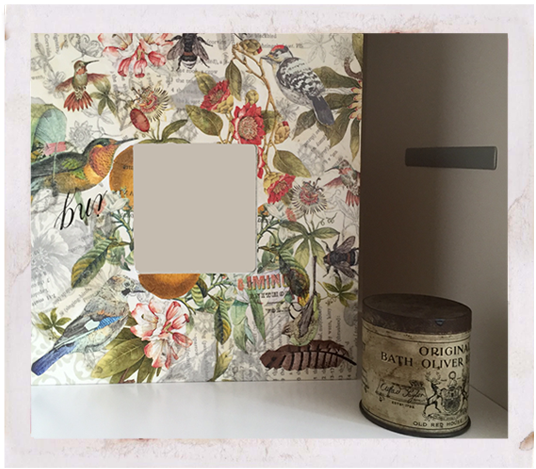 If you are interested in finding out more about decoupage check my courses page: classes range from two hours to a whole weekend and cost from £23 for an introduction where you will learn enough about the technique to start your own upcycling projects at home.
Next time I'll show you clever ways to upcycle a ceramic plant pot from Ikea.
ARTIST & MAKER
My work is often humorous and whimsical – unless my romantic side takes over and then we enter into a fairy-tale territory of old-fashioned script, pages of books and music scores populated by chivalrous gentlemen, glamorous ladies, butterflies and rabbits.
LEARN WITH ME
Would you like to explore your creative side? I use the wonderful techniques of decoupage and collage in much of my work, and now I can teach you how to create your very own masterpieces!
<blockquote class="instagram-media" data-instgrm-permalink="https://www.instagram.com/p/BXaVVQnFOHg/" data-instgrm-version="8" style=" background:#FFF; border:0; border-radius:3px; box-shadow:0 0 1px 0 rgba(0,0,0,0.5),0 1px 10px 0 rgba(0,0,0,0.15); margin: 1px; max-width:658px; padding:0; width:99.375%; width:-webkit-calc(100% - 2px); width:calc(100% - 2px);"><div style="padding:8px;"> <div style=" background:#F8F8F8; line-height:0; margin-top:40px; padding:50% 0; text-align:center; width:100%;"> <div style=" background:url(data:image/png;base64,iVBORw0KGgoAAAANSUhEUgAAACwAAAAsCAMAAAApWqozAAAABGdBTUEAALGPC/xhBQAAAAFzUkdCAK7OHOkAAAAMUExURczMzPf399fX1+bm5mzY9AMAAADiSURBVDjLvZXbEsMgCES5/P8/t9FuRVCRmU73JWlzosgSIIZURCjo/ad+EQJJB4Hv8BFt+IDpQoCx1wjOSBFhh2XssxEIYn3ulI/6MNReE07UIWJEv8UEOWDS88LY97kqyTliJKKtuYBbruAyVh5wOHiXmpi5we58Ek028czwyuQdLKPG1Bkb4NnM+VeAnfHqn1k4+GPT6uGQcvu2h2OVuIf/gWUFyy8OWEpdyZSa3aVCqpVoVvzZZ2VTnn2wU8qzVjDDetO90GSy9mVLqtgYSy231MxrY6I2gGqjrTY0L8fxCxfCBbhWrsYYAAAAAElFTkSuQmCC); display:block; height:44px; margin:0 auto -44px; position:relative; top:-22px; width:44px;"></div></div><p style=" color:#c9c8cd; font-family:Arial,sans-serif; font-size:14px; line-height:17px; margin-bottom:0; margin-top:8px; overflow:hidden; padding:8px 0 7px; text-align:center; text-overflow:ellipsis; white-space:nowrap;"><a href="https://www.instagram.com/p/BXaVVQnFOHg/" style=" color:#c9c8cd; font-family:Arial,sans-serif; font-size:14px; font-style:normal; font-weight:normal; line-height:17px; text-decoration:none;" target="_blank">A post shared by Gabriela Szulman Art (@gabrielaszulman)</a> on <time style=" font-family:Arial,sans-serif; font-size:14px; line-height:17px;" datetime="2017-08-05T12:04:58+00:00">Aug 5, 2017 at 5:04am PDT</time></p></div></blockquote> <script async defer src="//www.instagram.com/embed.js"></script>
<blockquote class="instagram-media" data-instgrm-permalink="https://www.instagram.com/p/BgqWL-UnQ26/" data-instgrm-version="8" style=" background:#FFF; border:0; border-radius:3px; box-shadow:0 0 1px 0 rgba(0,0,0,0.5),0 1px 10px 0 rgba(0,0,0,0.15); margin: 1px; max-width:658px; padding:0; width:99.375%; width:-webkit-calc(100% - 2px); width:calc(100% - 2px);"><div style="padding:8px;"> <div style=" background:#F8F8F8; line-height:0; margin-top:40px; padding:50.0% 0; text-align:center; width:100%;"> <div style=" background:url(data:image/png;base64,iVBORw0KGgoAAAANSUhEUgAAACwAAAAsCAMAAAApWqozAAAABGdBTUEAALGPC/xhBQAAAAFzUkdCAK7OHOkAAAAMUExURczMzPf399fX1+bm5mzY9AMAAADiSURBVDjLvZXbEsMgCES5/P8/t9FuRVCRmU73JWlzosgSIIZURCjo/ad+EQJJB4Hv8BFt+IDpQoCx1wjOSBFhh2XssxEIYn3ulI/6MNReE07UIWJEv8UEOWDS88LY97kqyTliJKKtuYBbruAyVh5wOHiXmpi5we58Ek028czwyuQdLKPG1Bkb4NnM+VeAnfHqn1k4+GPT6uGQcvu2h2OVuIf/gWUFyy8OWEpdyZSa3aVCqpVoVvzZZ2VTnn2wU8qzVjDDetO90GSy9mVLqtgYSy231MxrY6I2gGqjrTY0L8fxCxfCBbhWrsYYAAAAAElFTkSuQmCC); display:block; height:44px; margin:0 auto -44px; position:relative; top:-22px; width:44px;"></div></div><p style=" color:#c9c8cd; font-family:Arial,sans-serif; font-size:14px; line-height:17px; margin-bottom:0; margin-top:8px; overflow:hidden; padding:8px 0 7px; text-align:center; text-overflow:ellipsis; white-space:nowrap;"><a href="https://www.instagram.com/p/BgqWL-UnQ26/" style=" color:#c9c8cd; font-family:Arial,sans-serif; font-size:14px; font-style:normal; font-weight:normal; line-height:17px; text-decoration:none;" target="_blank">A post shared by Gabriela Szulman Art (@gabrielaszulman)</a> on <time style=" font-family:Arial,sans-serif; font-size:14px; line-height:17px;" datetime="2018-03-23T10:02:50+00:00">Mar 23, 2018 at 3:02am PDT</time></p></div></blockquote> <script async defer src="//www.instagram.com/embed.js"></script>