On Saturday 9 and Sunday 10 December several collective studios and artists' houses in West Camberwell will be opening their doors to to art lovers, collectors and gift seekers. Here at 6 Empress Mews, my studio and home since 2015, I'll be showing my new collection of collages, decoupaged glass dishes and decorative objects, as well as greeting cards, prints and jewellery. I'll also have special studio offers including workshop vouchers (great Christmas presents!), discontinued stock, and the book House of Cards: step-by-step projects for beautiful handmade greetings cards.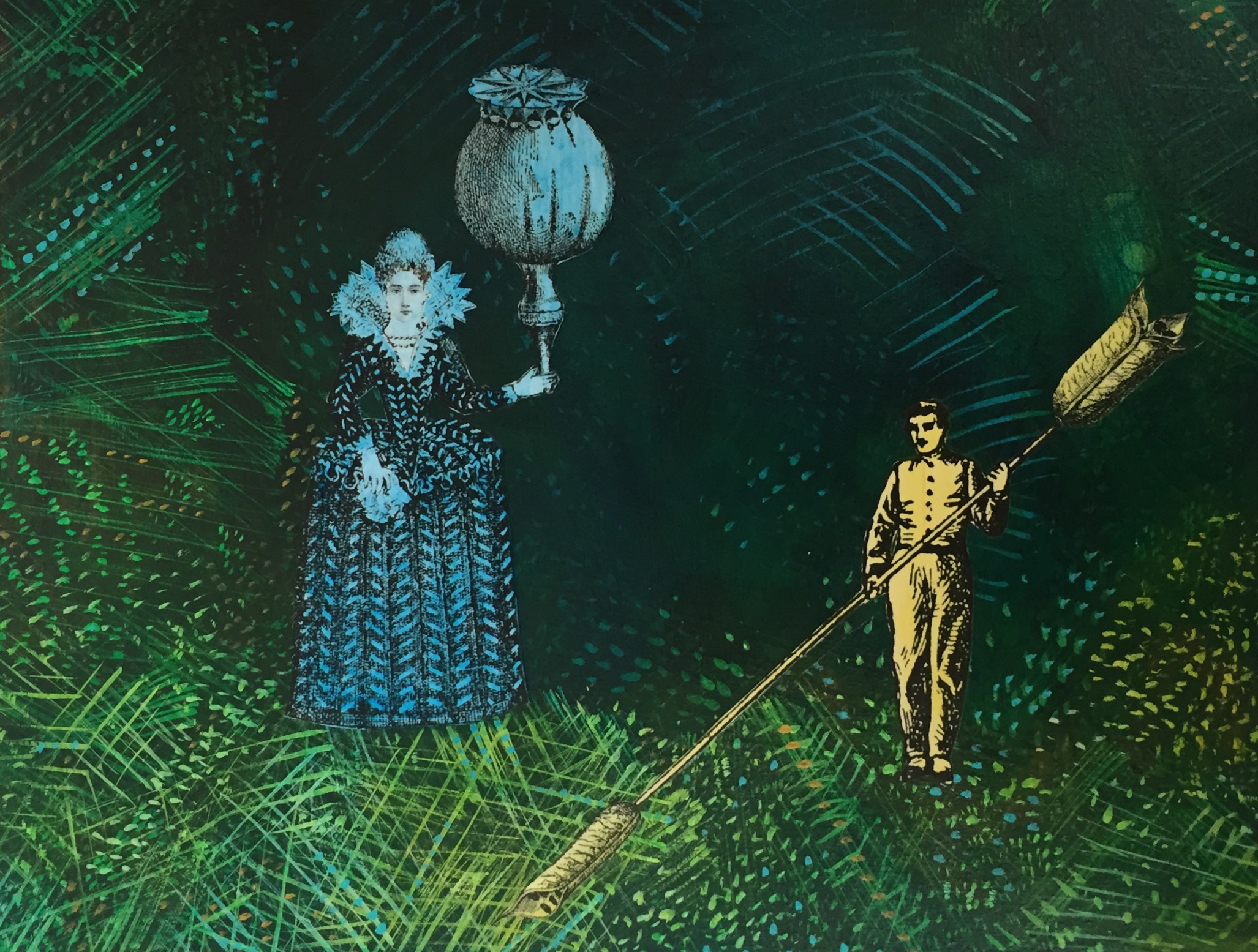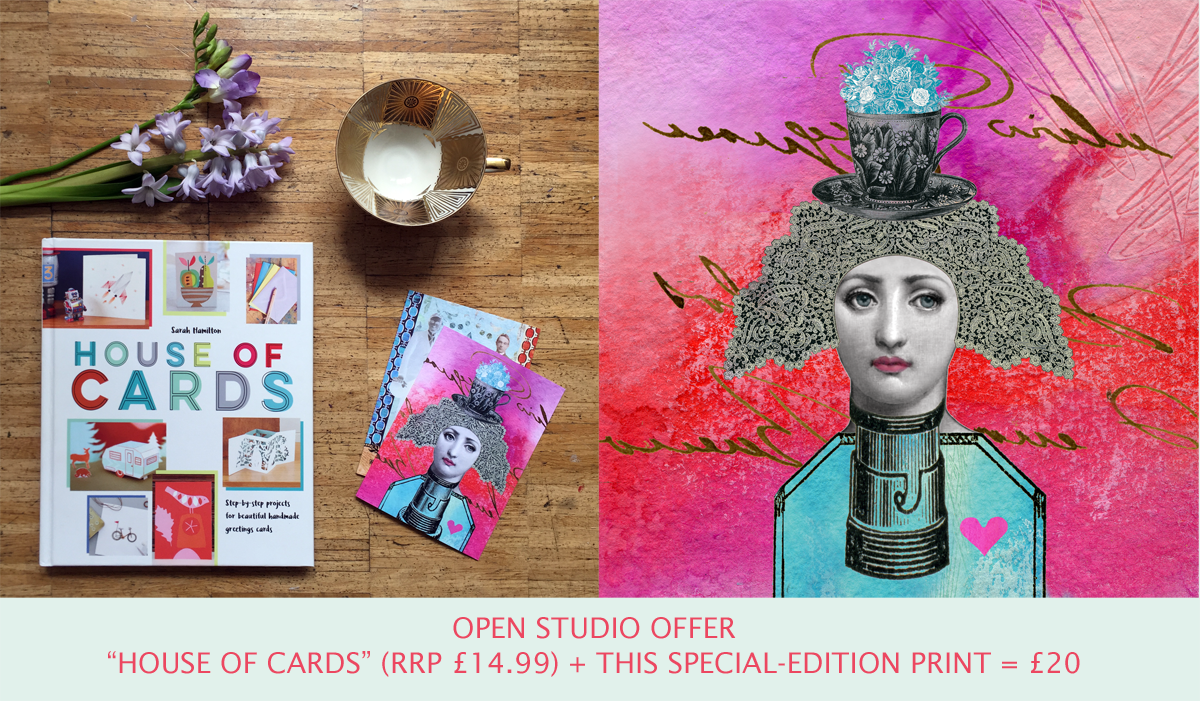 You will also find two invited artists at 6 Empress Mews this year: papercut maestro Kip Perdue of Kartegraphik and printmaker Sarah Hamilton.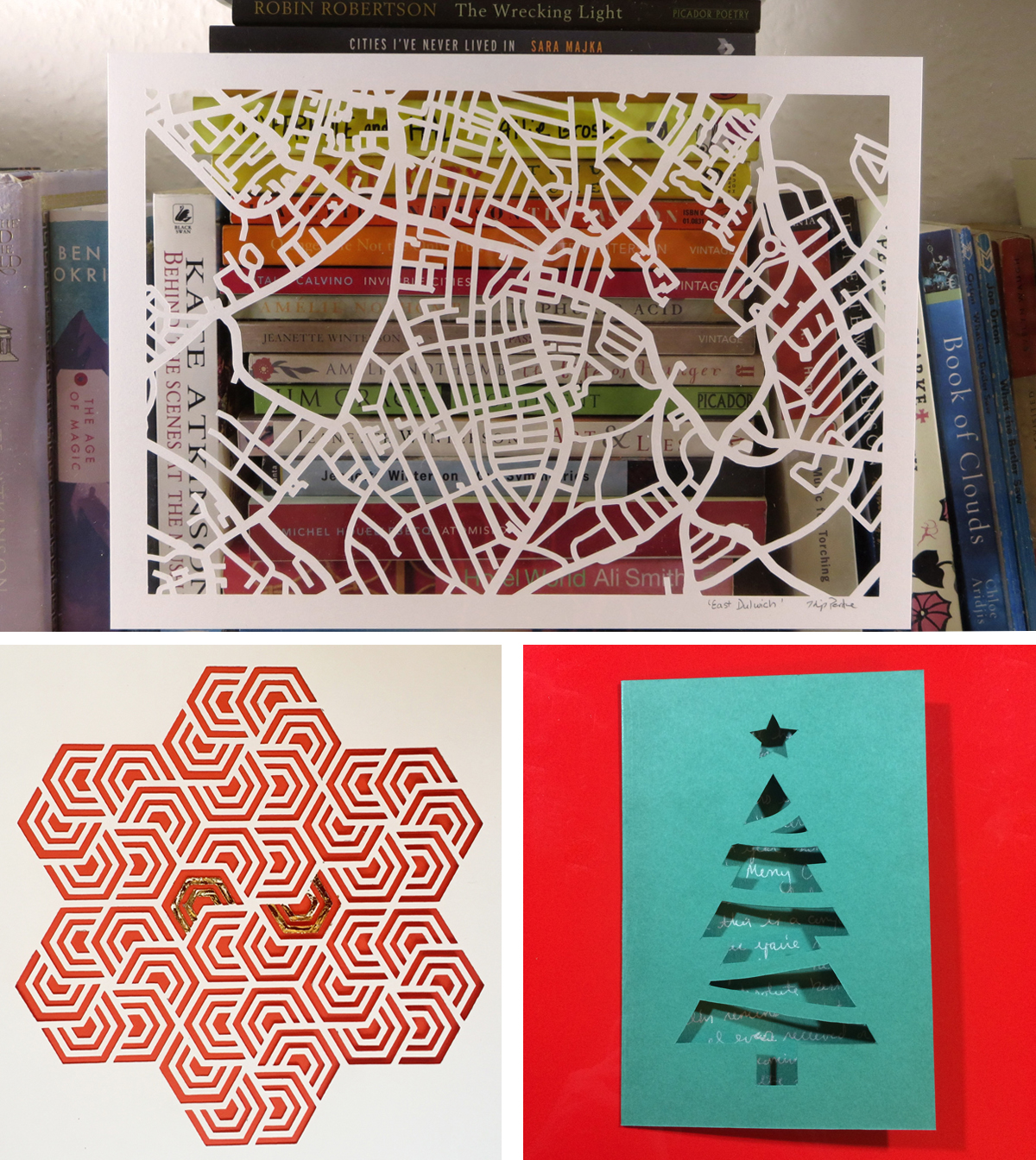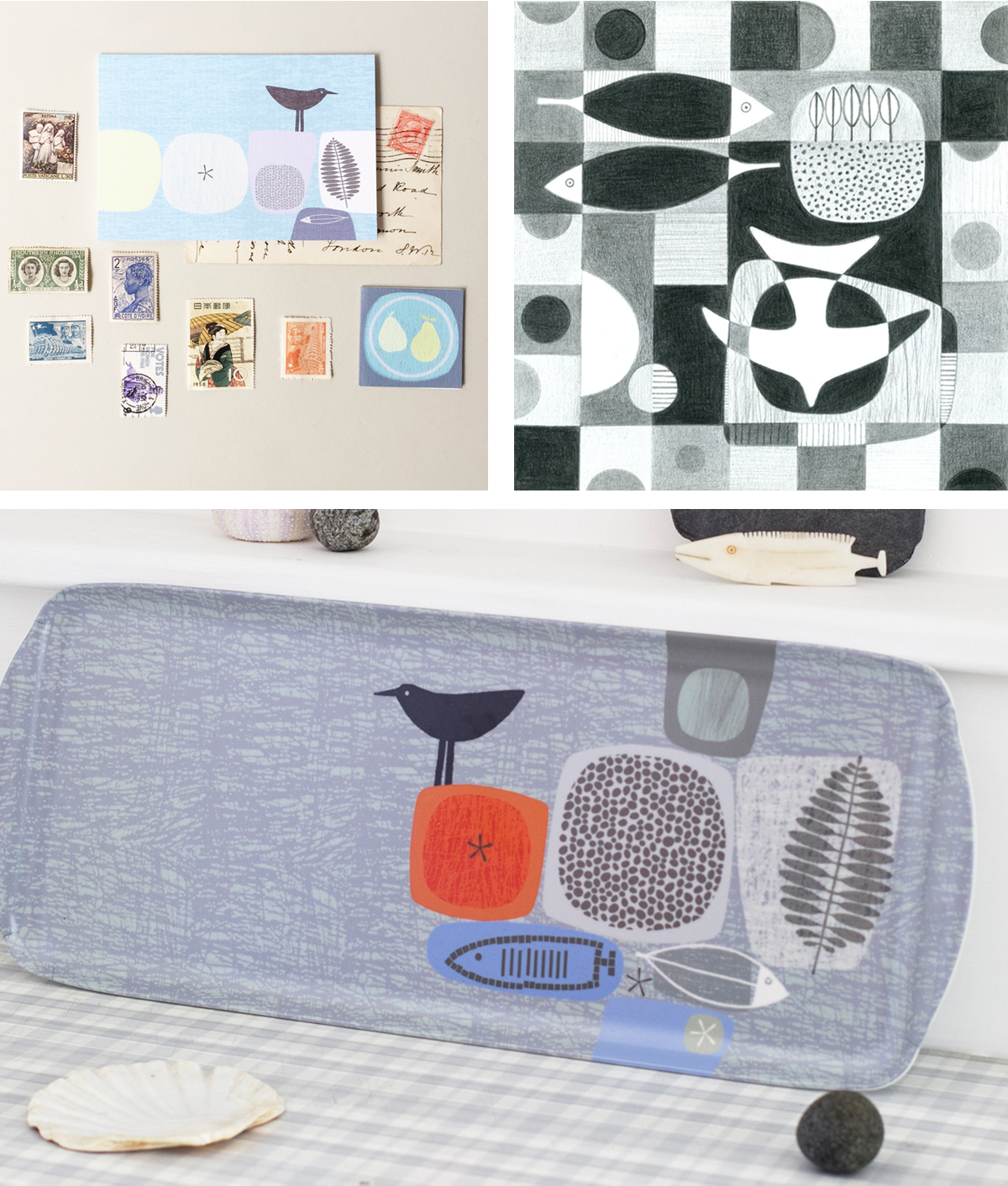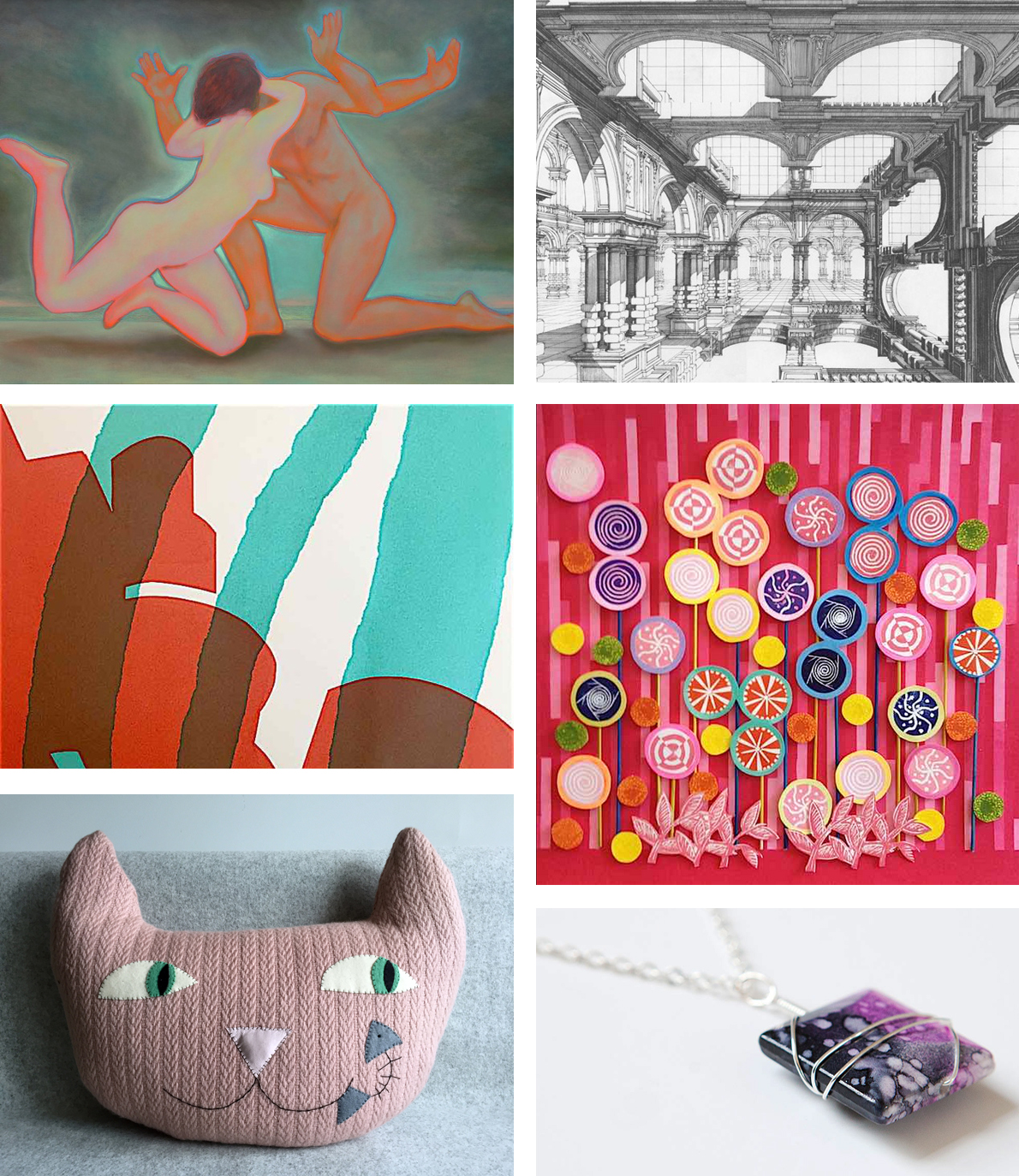 The West Camberwell Open Studios Weekend is spread across ten different sites with over 60 creators: a great opportunity to do Christmas shopping with a difference and discover a plethora of unique items that you will not find on the hight street. Download the full brochure here (scroll to page 9 for West Camberwell listings) or, better still, pick up a copy from us and we'll help you plan a route so that you make the most of your visit.
How to get here:



Empress Mews is off Kenbury Street, London SE5 9BT
Public transport:
Bus routes 35 (Shoreditch – Clapham Junction), 45 (St Pancras – Clapham Park), 345 (South Kensington – Peckham) to Lilford Road
Train stations Denmark Hill and Loughborough Junction
Tube station Brixton (just over a mile away)
On-street parking is free after 6.30 on weekdays and all weekend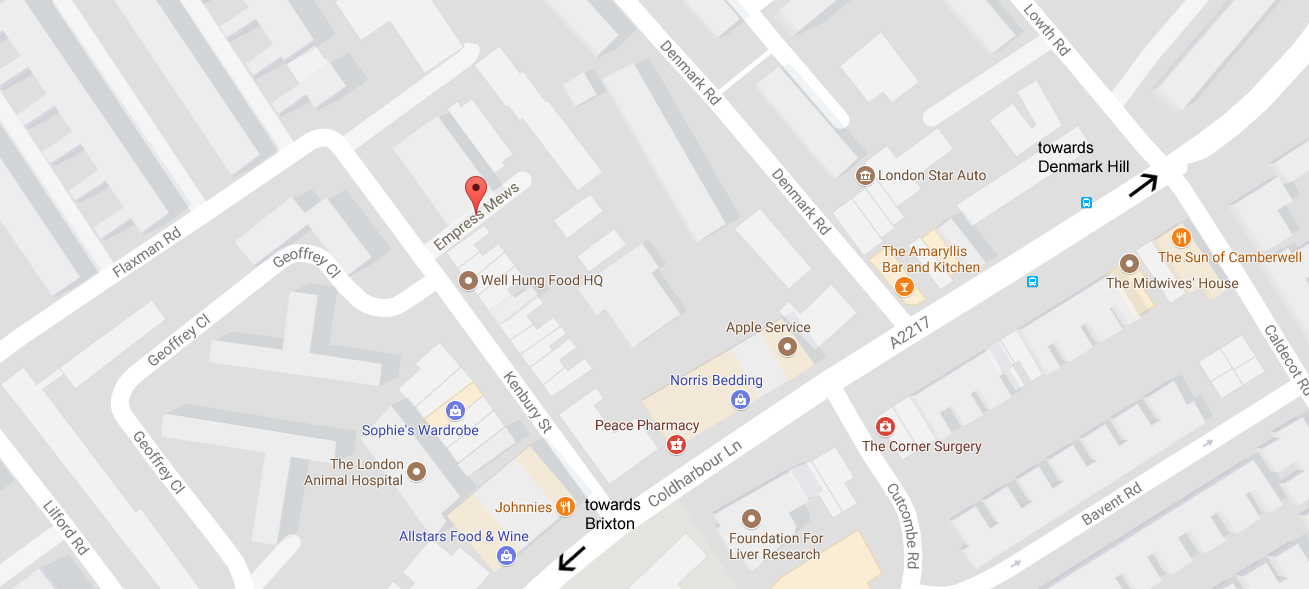 Camberwell Open Studios



---
Friday 8 December 6-9 pm




Saturday 9 / Sunday 10 December, 11 am – 6 pm


6 Empress Mews

, London SE5 9BT
ARTIST & MAKER
My work is often humorous and whimsical – unless my romantic side takes over and then we enter into a fairy-tale territory of old-fashioned script, pages of books and music scores populated by chivalrous gentlemen, glamorous ladies, butterflies and rabbits.
LEARN WITH ME
Would you like to explore your creative side? I use the wonderful techniques of decoupage and collage in much of my work, and now I can teach you how to create your very own masterpieces!
<blockquote class="instagram-media" data-instgrm-permalink="https://www.instagram.com/p/BdUw_4Wn_K5/" data-instgrm-version="8" style=" background:#FFF; border:0; border-radius:3px; box-shadow:0 0 1px 0 rgba(0,0,0,0.5),0 1px 10px 0 rgba(0,0,0,0.15); margin: 1px; max-width:658px; padding:0; width:99.375%; width:-webkit-calc(100% - 2px); width:calc(100% - 2px);"><div style="padding:8px;"> <div style=" background:#F8F8F8; line-height:0; margin-top:40px; padding:50.0% 0; text-align:center; width:100%;"> <div style=" background:url(data:image/png;base64,iVBORw0KGgoAAAANSUhEUgAAACwAAAAsCAMAAAApWqozAAAABGdBTUEAALGPC/xhBQAAAAFzUkdCAK7OHOkAAAAMUExURczMzPf399fX1+bm5mzY9AMAAADiSURBVDjLvZXbEsMgCES5/P8/t9FuRVCRmU73JWlzosgSIIZURCjo/ad+EQJJB4Hv8BFt+IDpQoCx1wjOSBFhh2XssxEIYn3ulI/6MNReE07UIWJEv8UEOWDS88LY97kqyTliJKKtuYBbruAyVh5wOHiXmpi5we58Ek028czwyuQdLKPG1Bkb4NnM+VeAnfHqn1k4+GPT6uGQcvu2h2OVuIf/gWUFyy8OWEpdyZSa3aVCqpVoVvzZZ2VTnn2wU8qzVjDDetO90GSy9mVLqtgYSy231MxrY6I2gGqjrTY0L8fxCxfCBbhWrsYYAAAAAElFTkSuQmCC); display:block; height:44px; margin:0 auto -44px; position:relative; top:-22px; width:44px;"></div></div><p style=" color:#c9c8cd; font-family:Arial,sans-serif; font-size:14px; line-height:17px; margin-bottom:0; margin-top:8px; overflow:hidden; padding:8px 0 7px; text-align:center; text-overflow:ellipsis; white-space:nowrap;"><a href="https://www.instagram.com/p/BdUw_4Wn_K5/" style=" color:#c9c8cd; font-family:Arial,sans-serif; font-size:14px; font-style:normal; font-weight:normal; line-height:17px; text-decoration:none;" target="_blank">A post shared by Gabriela Szulman Art (@gabrielaszulman)</a> on <time style=" font-family:Arial,sans-serif; font-size:14px; line-height:17px;" datetime="2017-12-30T11:19:38+00:00">Dec 30, 2017 at 3:19am PST</time></p></div></blockquote> <script async defer src="//www.instagram.com/embed.js"></script>