In this post I want to share with you my biggest decoupage project to date: creating "wallpaper" from the pages of an old Larousse dictionary for a feature wall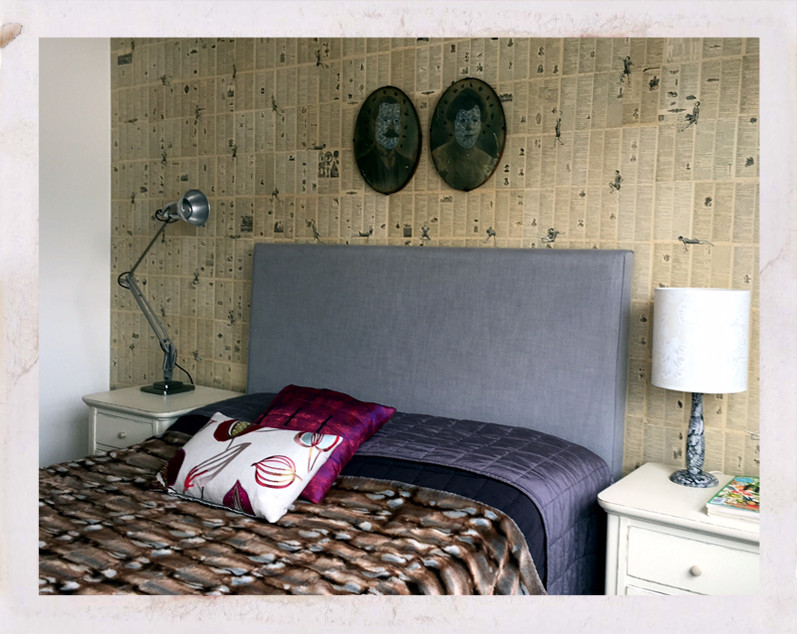 I moved house last year, and had been toying with the idea of creating a decoupage "wallpaper" on one of my bedroom walls for a while but the project seemed so huge compared to anything else I had done so far that I was worried I'd never finish it. The first step was to source an old Petit Larousse dictionary, which was what I wanted to use as my "wallpaper". Once the book arrived I was captivated by its yellowing pages full of wonderfully detailed illustrations, and I just had to get on with it! Papering the whole wall took me three days, and then I decided I wanted to scatter some men from the quirky entry on "gymnastique" on top of the book pages. I scanned and enlarged the images, printed them and eventually cut up a large enough number of exercising men to distribute across the wall. And I say "eventually" because a few months passed between covering the whole wall and finishing it with all the gymnasts in position… See what you think of the result in the close-up below: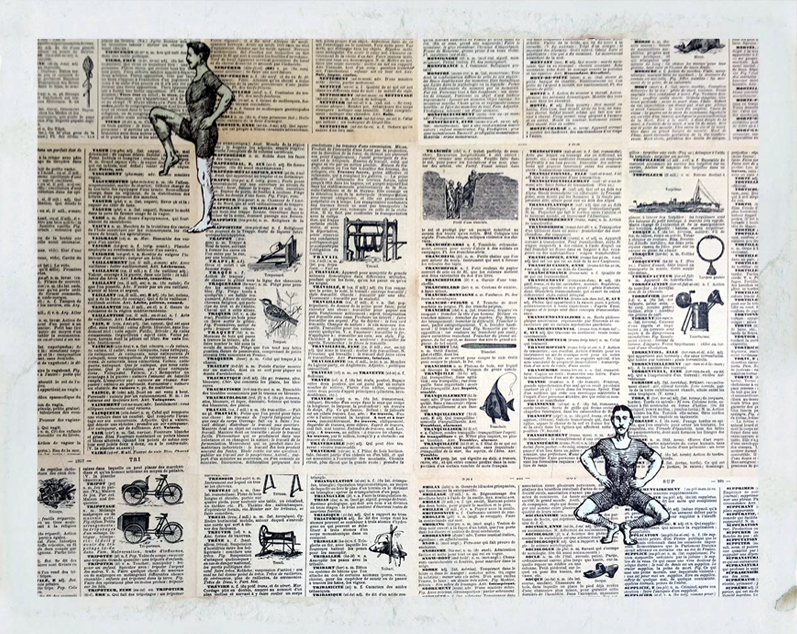 This couple of "reincarnated relatives" by local artist Jamie Palmer of  Pen and Gravy fits in very nicely with my wall: I can't think of anything else I'd rather have there (by the way, Jamie doesn't seem to be selling his doodled photographs online at the moment but you could contact him directly if you are interested in owning something similar).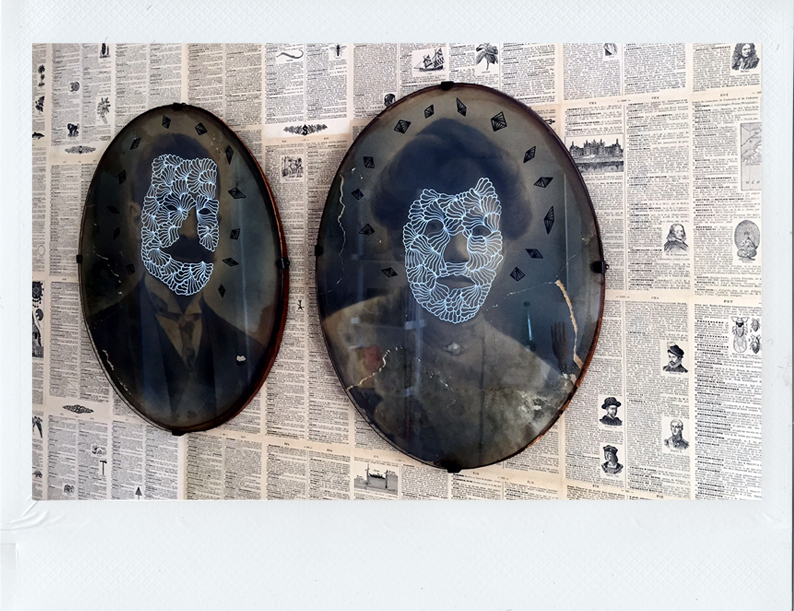 Are you inspired to have a decoupaged feature wall in your home? If you don't have the time or the inclination to undertake this kind of project yourself, you may want to consider commissioning me to create something special. Get in touch if you'd like to find out more or have an informal discussion about ideas, timings and costs.
ARTIST & MAKER
My work is often humorous and whimsical – unless my romantic side takes over and then we enter into a fairy-tale territory of old-fashioned script, pages of books and music scores populated by chivalrous gentlemen, glamorous ladies, butterflies and rabbits.
LEARN WITH ME
Would you like to explore your creative side? I use the wonderful techniques of decoupage and collage in much of my work, and now I can teach you how to create your very own masterpieces!
<blockquote class="instagram-media" data-instgrm-captioned data-instgrm-permalink="https://www.instagram.com/p/BhMUx8oHJmI/" data-instgrm-version="8" style=" background:#FFF; border:0; border-radius:3px; box-shadow:0 0 1px 0 rgba(0,0,0,0.5),0 1px 10px 0 rgba(0,0,0,0.15); margin: 1px; max-width:658px; padding:0; width:99.375%; width:-webkit-calc(100% - 2px); width:calc(100% - 2px);"><div style="padding:8px;"> <div style=" background:#F8F8F8; line-height:0; margin-top:40px; padding:50.0% 0; text-align:center; width:100%;"> <div style=" background:url(data:image/png;base64,iVBORw0KGgoAAAANSUhEUgAAACwAAAAsCAMAAAApWqozAAAABGdBTUEAALGPC/xhBQAAAAFzUkdCAK7OHOkAAAAMUExURczMzPf399fX1+bm5mzY9AMAAADiSURBVDjLvZXbEsMgCES5/P8/t9FuRVCRmU73JWlzosgSIIZURCjo/ad+EQJJB4Hv8BFt+IDpQoCx1wjOSBFhh2XssxEIYn3ulI/6MNReE07UIWJEv8UEOWDS88LY97kqyTliJKKtuYBbruAyVh5wOHiXmpi5we58Ek028czwyuQdLKPG1Bkb4NnM+VeAnfHqn1k4+GPT6uGQcvu2h2OVuIf/gWUFyy8OWEpdyZSa3aVCqpVoVvzZZ2VTnn2wU8qzVjDDetO90GSy9mVLqtgYSy231MxrY6I2gGqjrTY0L8fxCxfCBbhWrsYYAAAAAElFTkSuQmCC); display:block; height:44px; margin:0 auto -44px; position:relative; top:-22px; width:44px;"></div></div> <p style=" margin:8px 0 0 0; padding:0 4px;"> <a href="https://www.instagram.com/p/BhMUx8oHJmI/" style=" color:#000; font-family:Arial,sans-serif; font-size:14px; font-style:normal; font-weight:normal; line-height:17px; text-decoration:none; word-wrap:break-word;" target="_blank">Spend a whole day stretching your creative muscle with me: join my next @obbyuk Mixed Media & Collage Workshop. Link on bio page, any questions please comment below!</a></p> <p style=" color:#c9c8cd; font-family:Arial,sans-serif; font-size:14px; line-height:17px; margin-bottom:0; margin-top:8px; overflow:hidden; padding:8px 0 7px; text-align:center; text-overflow:ellipsis; white-space:nowrap;">A post shared by <a href="https://www.instagram.com/gabrielaszulman/" style=" color:#c9c8cd; font-family:Arial,sans-serif; font-size:14px; font-style:normal; font-weight:normal; line-height:17px;" target="_blank"> Gabriela Szulman Art</a> (@gabrielaszulman) on <time style=" font-family:Arial,sans-serif; font-size:14px; line-height:17px;" datetime="2018-04-05T14:56:30+00:00">Apr 5, 2018 at 7:56am PDT</time></p></div></blockquote> <script async defer src="//www.instagram.com/embed.js"></script>