I spent a Friday in Hastings a couple of weeks ago and was intending to write a post about the whole visit when I realised that the highlight of the day, apart from a very good lunch at St Clement's Restaurant, was yet another visit to A.G. Hendy's Home Store in the Old Town. It's always a delight to step into a space which feels as if it belongs to a bygone era: the time before plastic existed, before so many things became disposable. The door opens into a world of low light and muted colours, and we walk in to discover what is behind the worn façade this time round…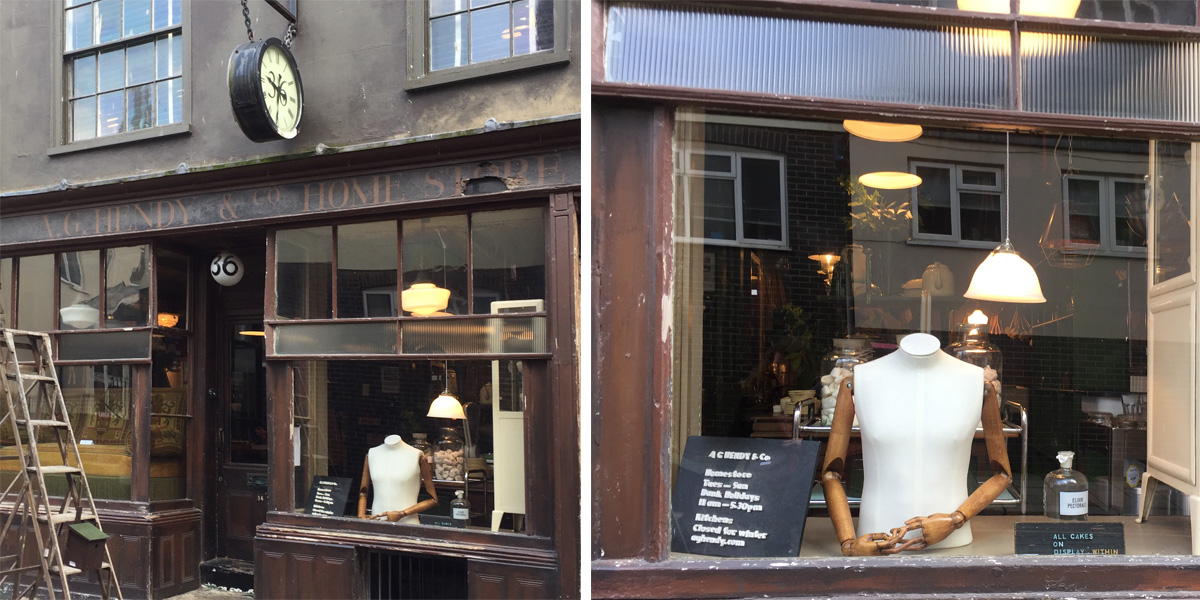 The building itself is very special: a three-storey late-Georgian townhouse which was lovingly restored by Alistair Hendy over the course of over three years, to sell mostly funcional items with a vintage feel. Everything is beautifully organised and carefully arranged: never before have cleaning implements and rolls of green twine been so covetable.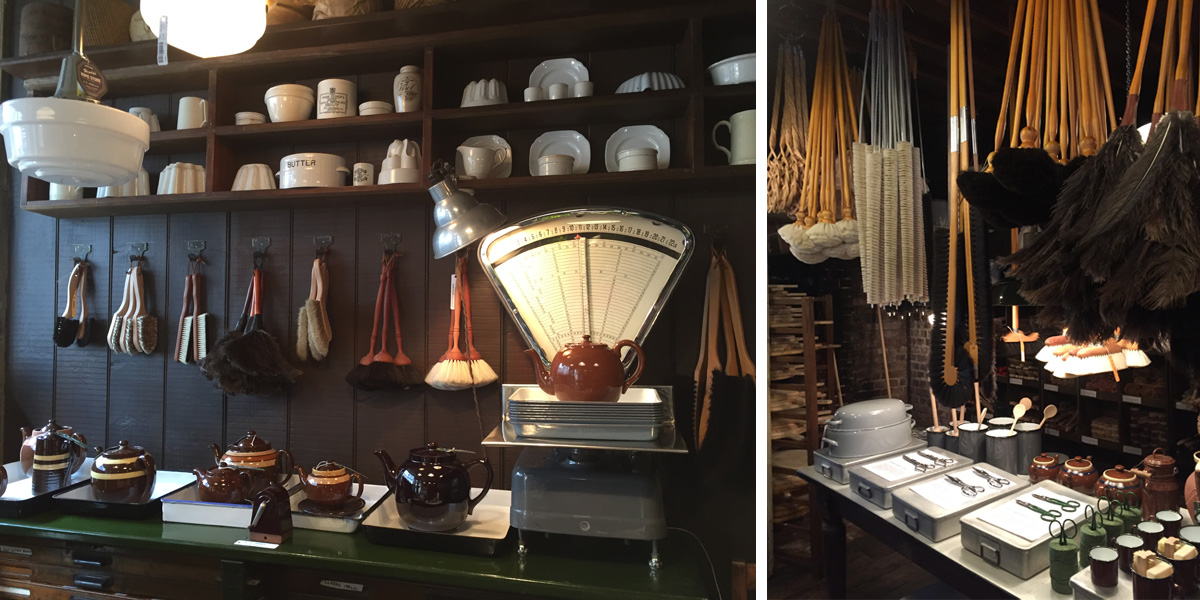 At the back of the ground floor it's possible to peek into the kitchen, which becomes a minuscule restaurant serving weekend lunches during the Summer. With just a few tables and a brief menu consisting of simple seafood dishes, it's just the kind of place I'd love to try: on the list for next time!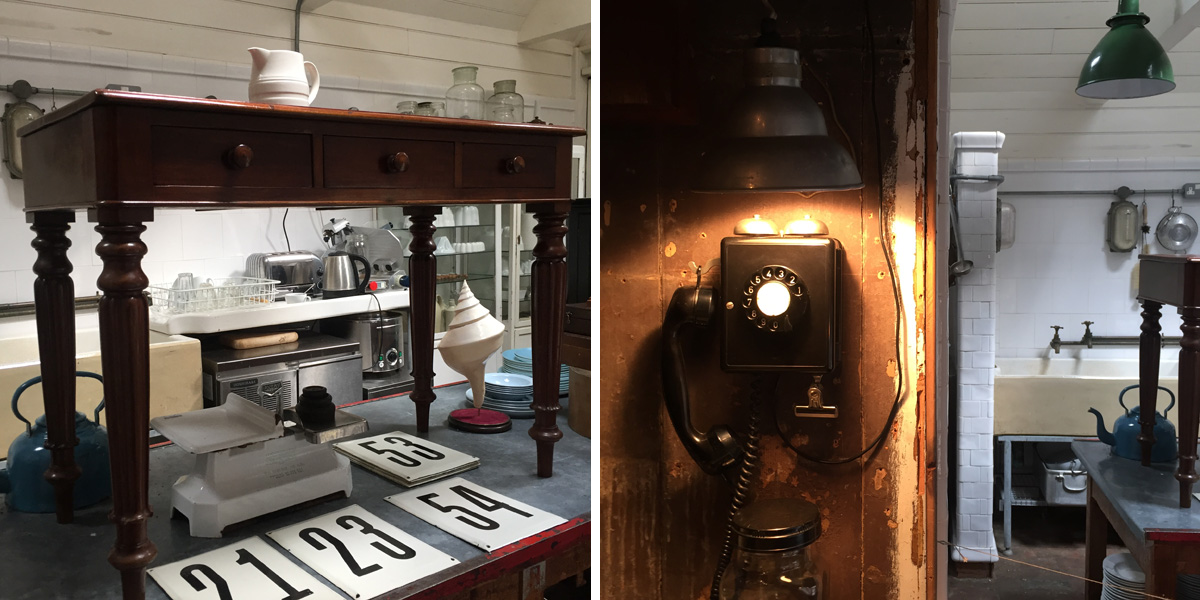 Going up the steep stairs there are tableaux of objects everywhere, from furniture to tailor's dummies and medical charts: everywhere we look, another still life that would not be out of place in a 17th century Dutch painting.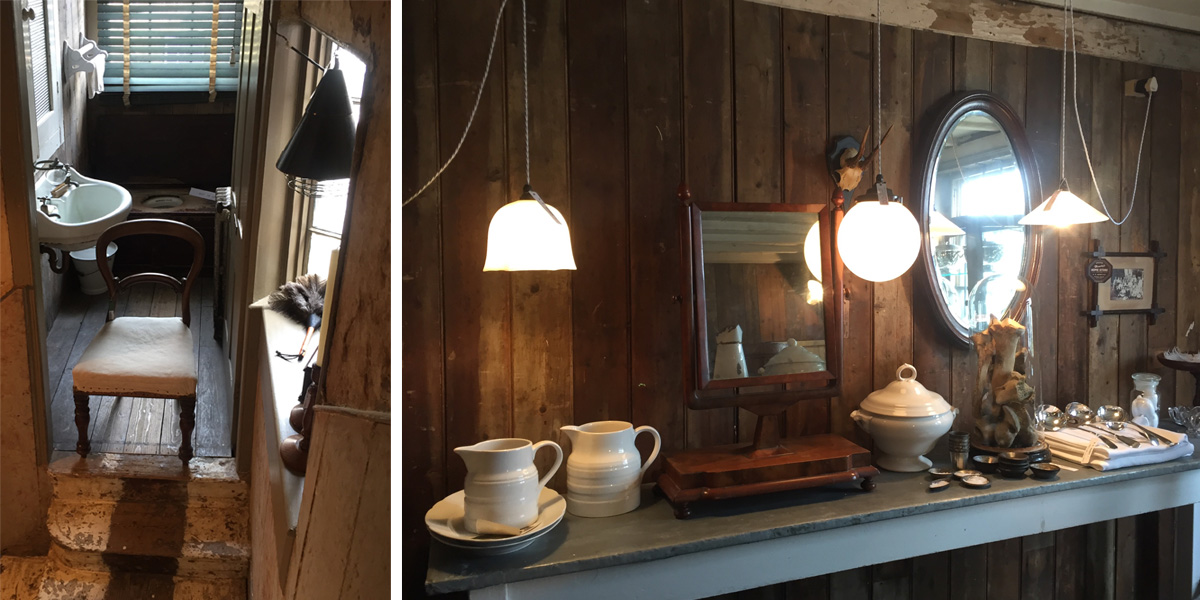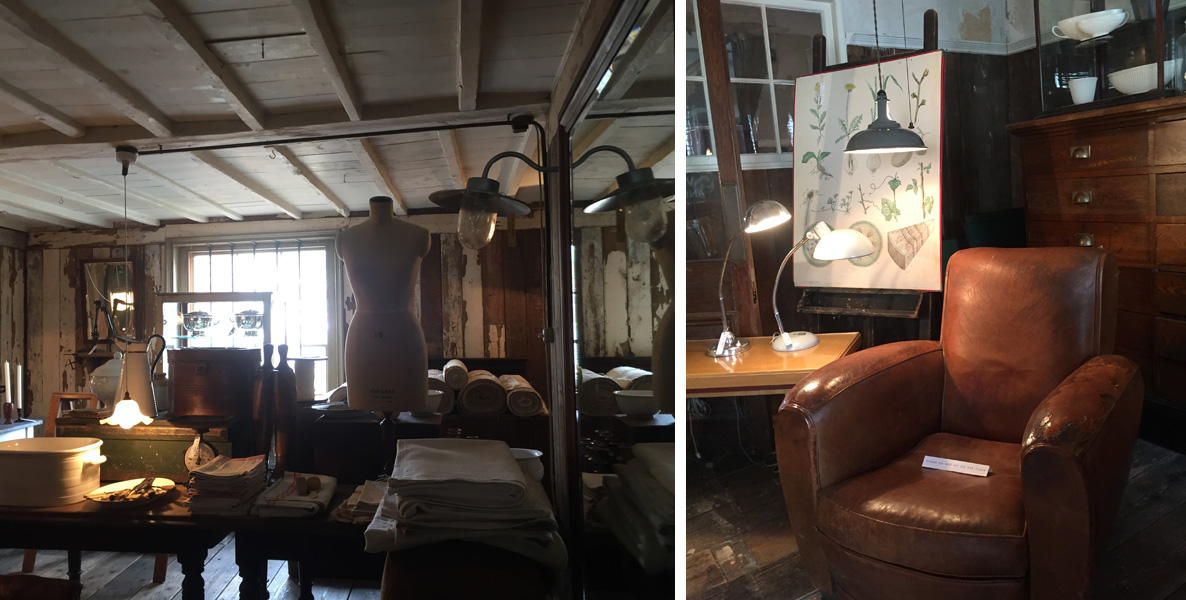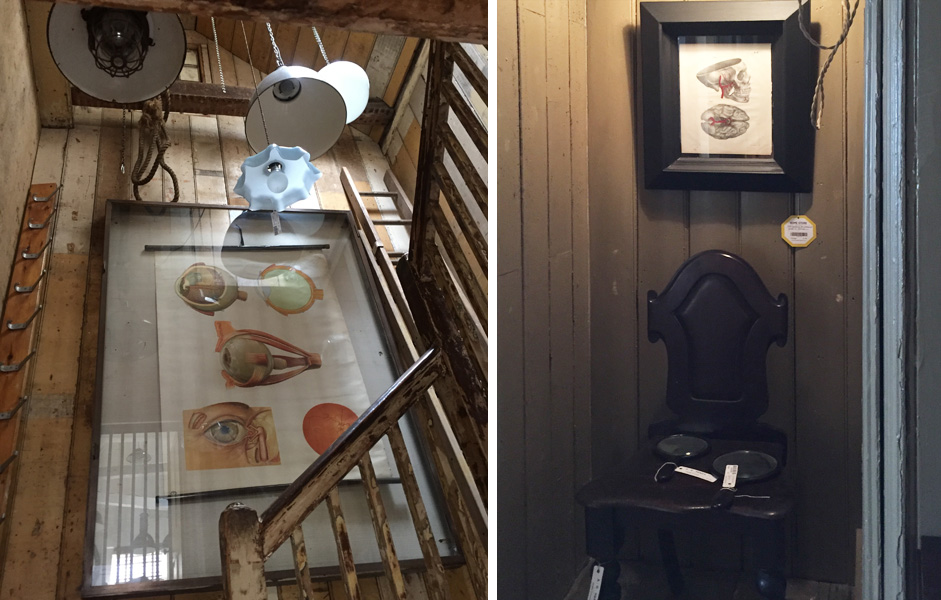 Back on the rabbit warren that is ground floor, we discover more interesting corners and carefully curated shelves housing utilitarian crockery and kitchen utensils. Did I buy anything, you may wonder? Well, to my surprise I could have walked away with most of the cleaning implements (you can see them all here, I promise they are much better in person) but I was sensible and chose just a ceiling cobweb brush for the studio. And I could not resist buying a couple of antique scissors: one large and sturdy, the other a more delicate Edwardian beauty. You'll have to wait to see those, I'm sure they'll make an appearance on my instagram feed before too long…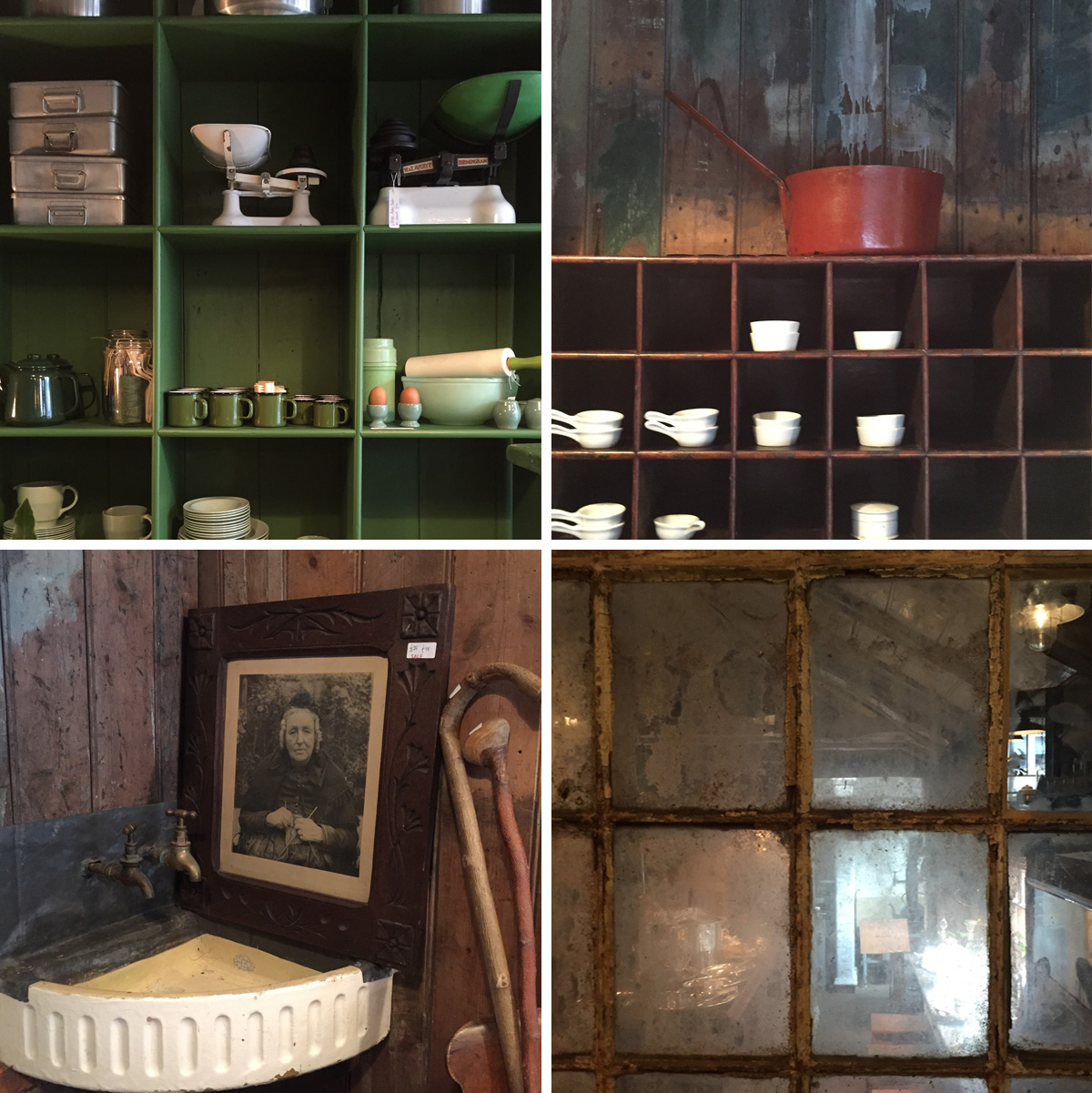 A. G. Hendy Home Store, 36 High Street, Hastings TN34 3ER
Opening Hours: Tuesday – Sunday 11am – 5.30pm and also Bank Holiday Mondays
ARTIST & MAKER
My work is often humorous and whimsical – unless my romantic side takes over and then we enter into a fairy-tale territory of old-fashioned script, pages of books and music scores populated by chivalrous gentlemen, glamorous ladies, butterflies and rabbits.
LEARN WITH ME
Would you like to explore your creative side? I use the wonderful techniques of decoupage and collage in much of my work, and now I can teach you how to create your very own masterpieces!
<blockquote class="instagram-media" data-instgrm-permalink="https://www.instagram.com/p/BaHE3WLnzsR/" data-instgrm-version="8" style=" background:#FFF; border:0; border-radius:3px; box-shadow:0 0 1px 0 rgba(0,0,0,0.5),0 1px 10px 0 rgba(0,0,0,0.15); margin: 1px; max-width:658px; padding:0; width:99.375%; width:-webkit-calc(100% - 2px); width:calc(100% - 2px);"><div style="padding:8px;"> <div style=" background:#F8F8F8; line-height:0; margin-top:40px; padding:50.0% 0; text-align:center; width:100%;"> <div style=" background:url(data:image/png;base64,iVBORw0KGgoAAAANSUhEUgAAACwAAAAsCAMAAAApWqozAAAABGdBTUEAALGPC/xhBQAAAAFzUkdCAK7OHOkAAAAMUExURczMzPf399fX1+bm5mzY9AMAAADiSURBVDjLvZXbEsMgCES5/P8/t9FuRVCRmU73JWlzosgSIIZURCjo/ad+EQJJB4Hv8BFt+IDpQoCx1wjOSBFhh2XssxEIYn3ulI/6MNReE07UIWJEv8UEOWDS88LY97kqyTliJKKtuYBbruAyVh5wOHiXmpi5we58Ek028czwyuQdLKPG1Bkb4NnM+VeAnfHqn1k4+GPT6uGQcvu2h2OVuIf/gWUFyy8OWEpdyZSa3aVCqpVoVvzZZ2VTnn2wU8qzVjDDetO90GSy9mVLqtgYSy231MxrY6I2gGqjrTY0L8fxCxfCBbhWrsYYAAAAAElFTkSuQmCC); display:block; height:44px; margin:0 auto -44px; position:relative; top:-22px; width:44px;"></div></div><p style=" color:#c9c8cd; font-family:Arial,sans-serif; font-size:14px; line-height:17px; margin-bottom:0; margin-top:8px; overflow:hidden; padding:8px 0 7px; text-align:center; text-overflow:ellipsis; white-space:nowrap;"><a href="https://www.instagram.com/p/BaHE3WLnzsR/" style=" color:#c9c8cd; font-family:Arial,sans-serif; font-size:14px; font-style:normal; font-weight:normal; line-height:17px; text-decoration:none;" target="_blank">A post shared by Gabriela Szulman Art (@gabrielaszulman)</a> on <time style=" font-family:Arial,sans-serif; font-size:14px; line-height:17px;" datetime="2017-10-11T14:09:41+00:00">Oct 11, 2017 at 7:09am PDT</time></p></div></blockquote> <script async defer src="//www.instagram.com/embed.js"></script>