This is the second of two posts on furniture hacks where I share transformations of simple items from Ikea using just paper and glue.
Last time
, in the first of my furniture hacks, I showed you how I upcycled a
Hemnes
bedside table; this time it's different versions of the same chair.
As I mentioned before, even though Ikea furniture is very affordable I prefer to buy second-hand as that means I can avoid the dreaded flat-pack assembly! Plus, when I source items for furniture hacks on
Gumtree
, which is one of my favourite hunting grounds, I can specify a radius of 5-10 miles from my home which means the trip is much quicker and far less painful than a visit to my nearest superstore. As long as the chair is structurally sound I'm not concerned about superficial damage as that will be covered first with paint and then with paper. The chair you see here is no longer available from Ikea but it used to cost £40 new; I bought six for £50 from a local house clearance. Other good chair shapes from Ikea are
Ingolf
(£39),
Kaustby
(£40) and
Norraker
(£50).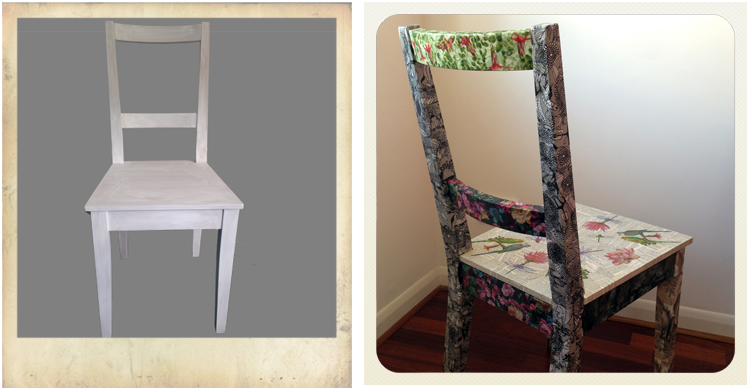 On the right you can see the seat in detail: I used a layer of book paper first, let it dry and glued cut-outs of parrots, flowers and insects from different paper napkins on top. This chair is called "Costa Rica", as it was inspired by a wonderful holiday I spent in that lush tropical country a couple of years ago.
This simple piece of furniture was transformed into something unique through decoupage, at a cost of under £10 in materials. It would take a couple of days to complete a project such as this one assuming you are already proficient in the technique.
Below you can see two other Ikea chairs I upcycled in the same way but using my own specially printed papers: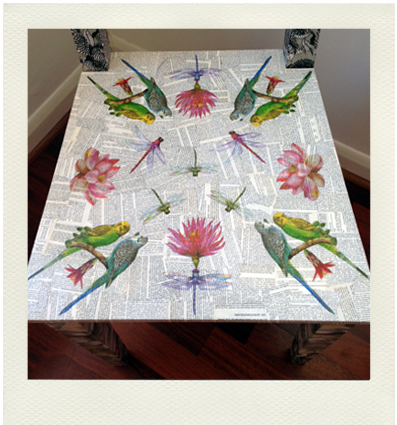 "Peckham" features a collage of photographs I took during a walk along
Rye Lane
mixed together with map fragments.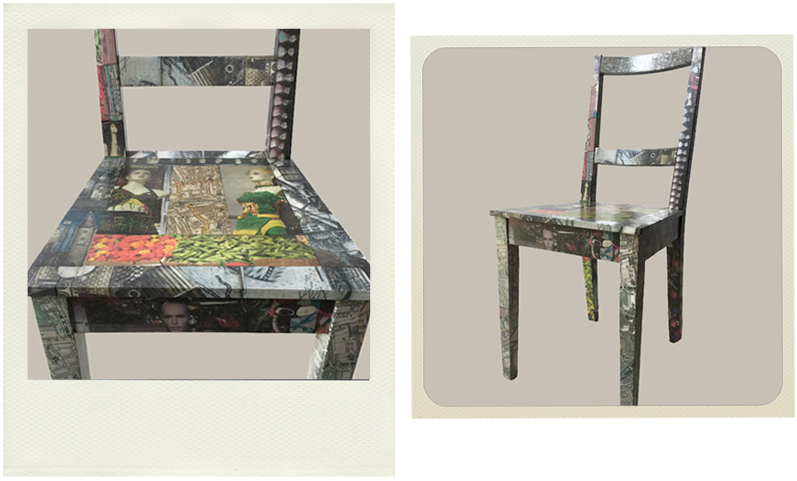 For "Dulwich" I used a historical map for the seat, legs and the lower back rung, and combined this with pieces from a  toile-de-jouy tissue paper with a pastoral theme.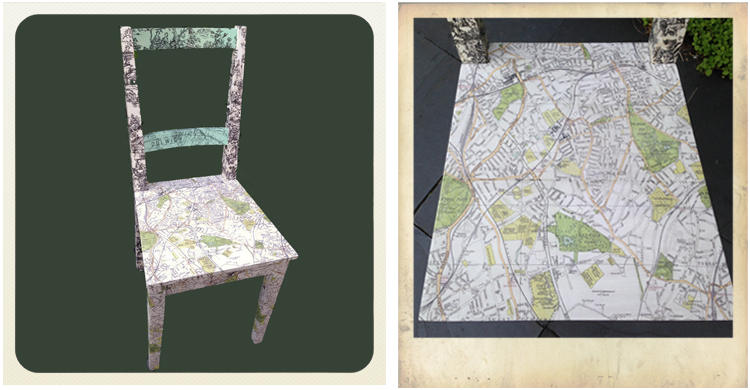 If you like the look of decoupage furniture but can't spare a couple of days to complete a project of this kind, you may want to consider commissioning a special item from me: I can either work on something you already own or source a suitable piece for you. Custom-made orders range in price from £250, please
get in touch
if you would like further details.
Next time I'll show you how to transform a plain glass vase bought from my local pound shop into a stylish tealight holder.
.
ARTIST & MAKER
My work is often humorous and whimsical – unless my romantic side takes over and then we enter into a fairy-tale territory of old-fashioned script, pages of books and music scores populated by chivalrous gentlemen, glamorous ladies, butterflies and rabbits.
LEARN WITH ME
Would you like to explore your creative side? I use the wonderful techniques of decoupage and collage in much of my work, and now I can teach you how to create your very own masterpieces!