Last month I had the pleasure of hosting a lovely hen party at the studio. I had been approached by two friends of the bride who wanted to do something really special for her, and after meeting for a chat I offered them a tailored glass decoupage workshop to create a set fo six plates as a wedding present. As the girls wanted the set to be a really special keepsake, they sourced a selection of personal photos to put at the centre of each plate.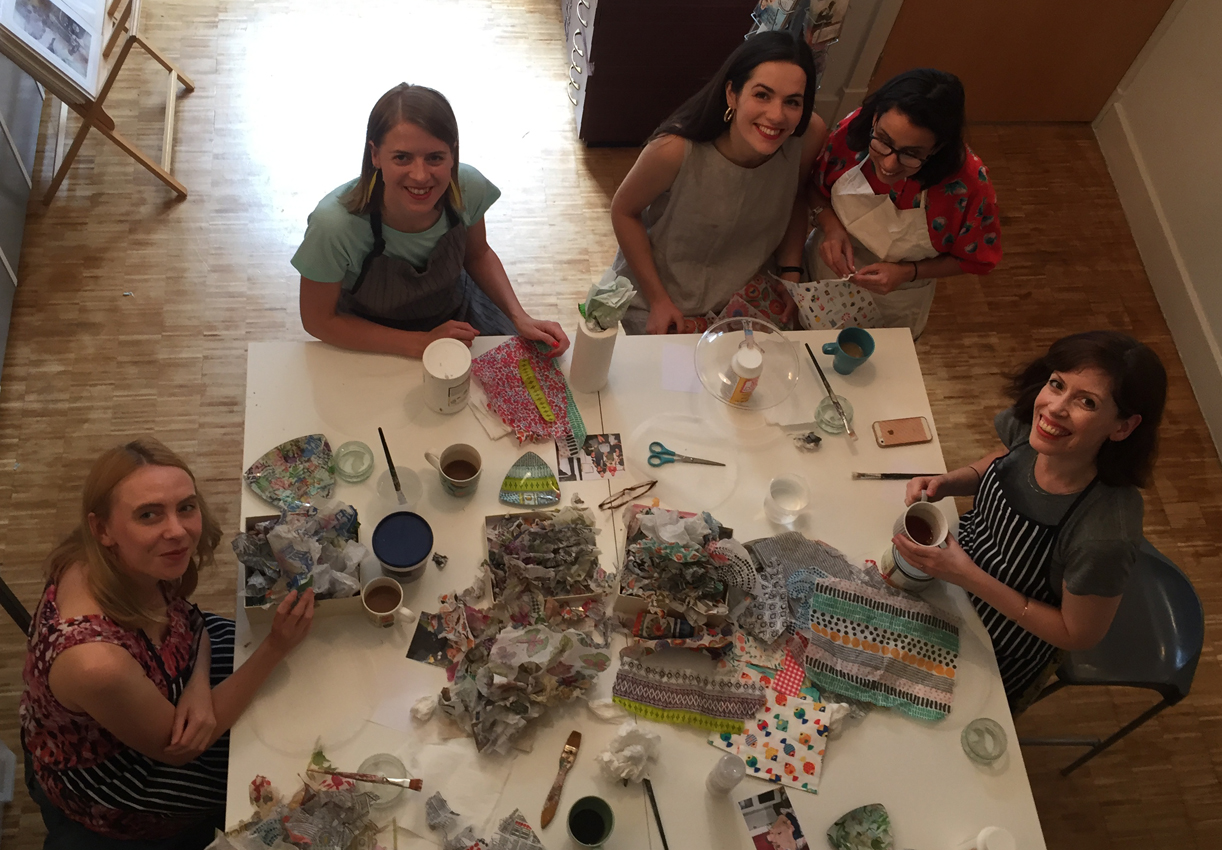 The afternoon was full of chatter and creativity, with a well-deserved break in the studio courtyard for scrumptious food (including home-baked scones!) and prosecco.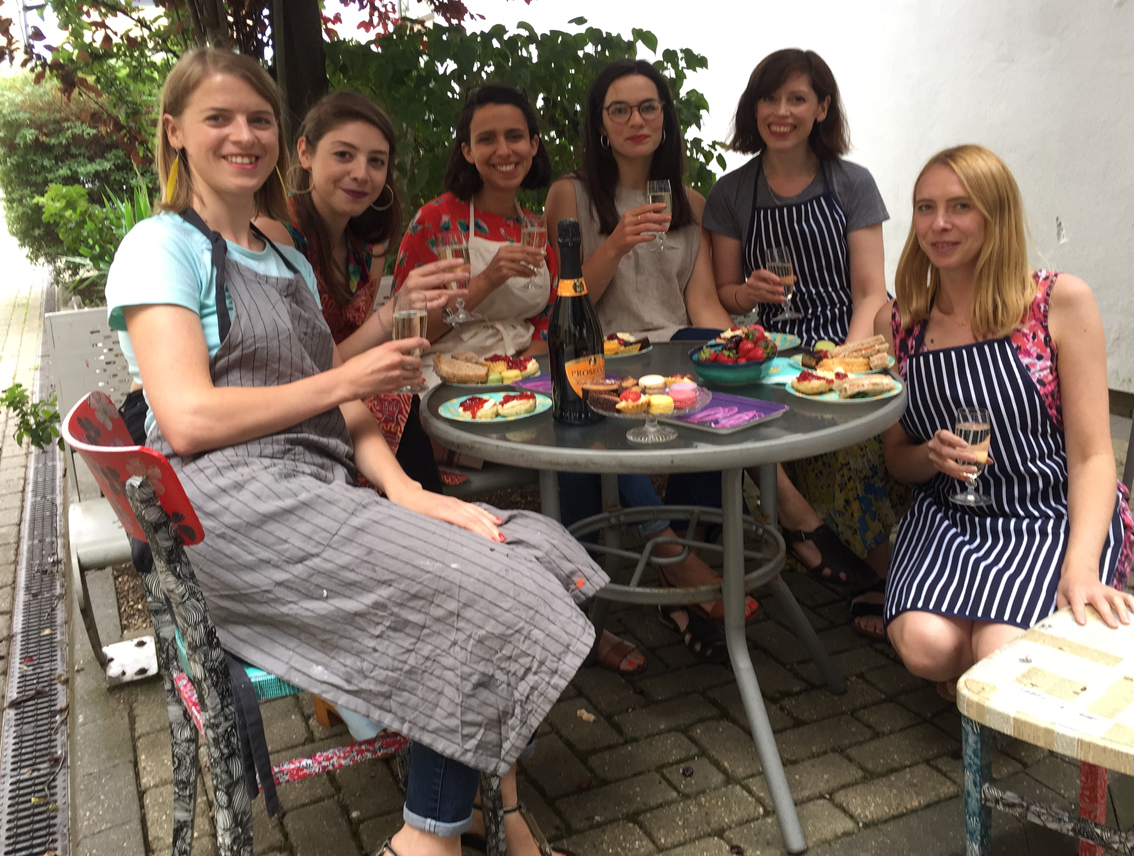 End of the afternoon and time to show off the brilliant creations, everybody thrilled with their results!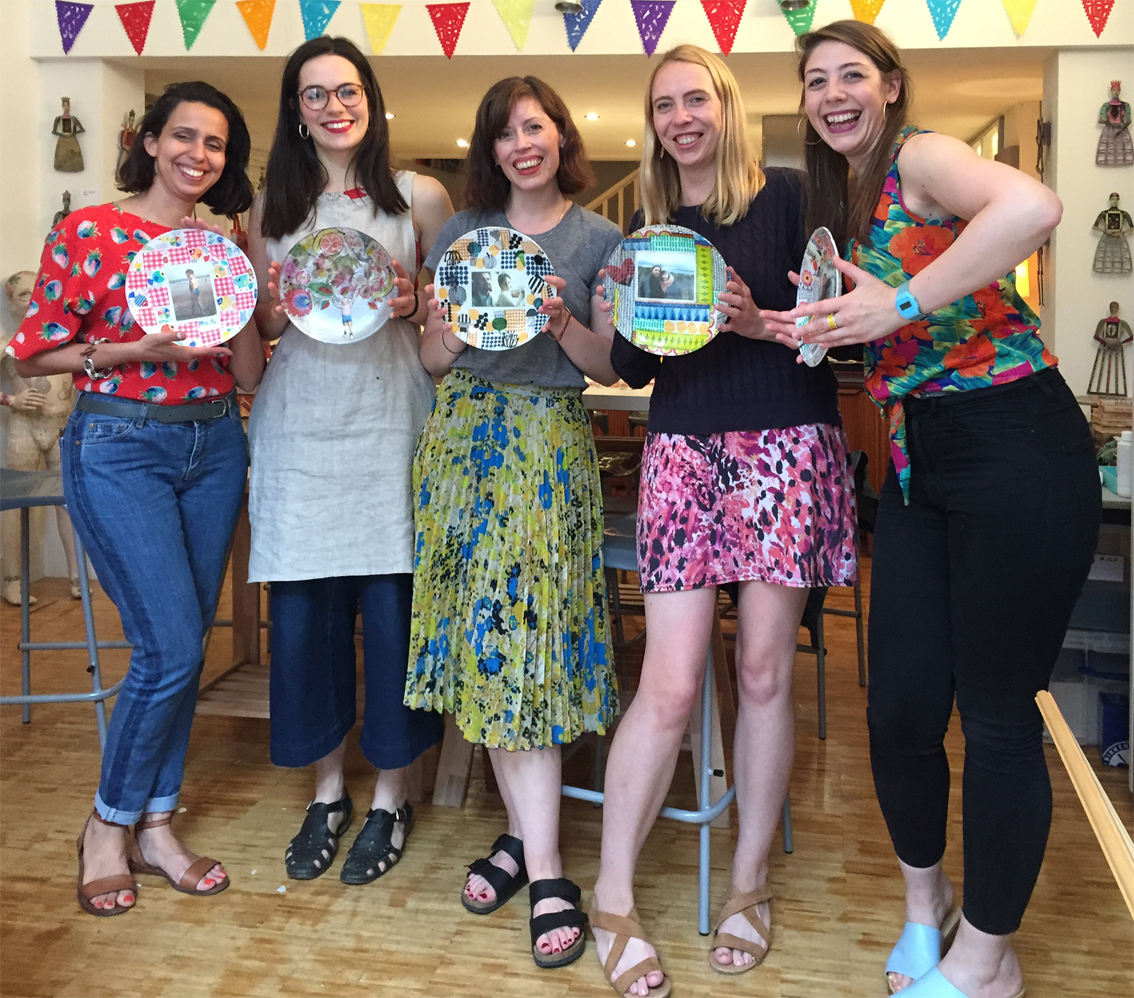 And here you can see each one of the six plates in all their glory, don't they look fabulous?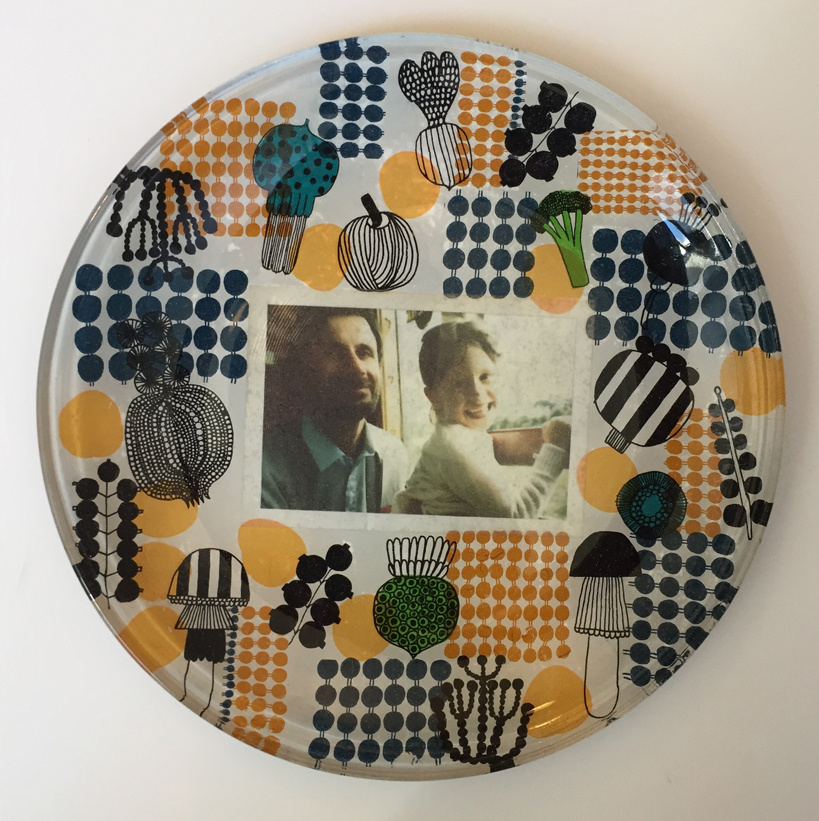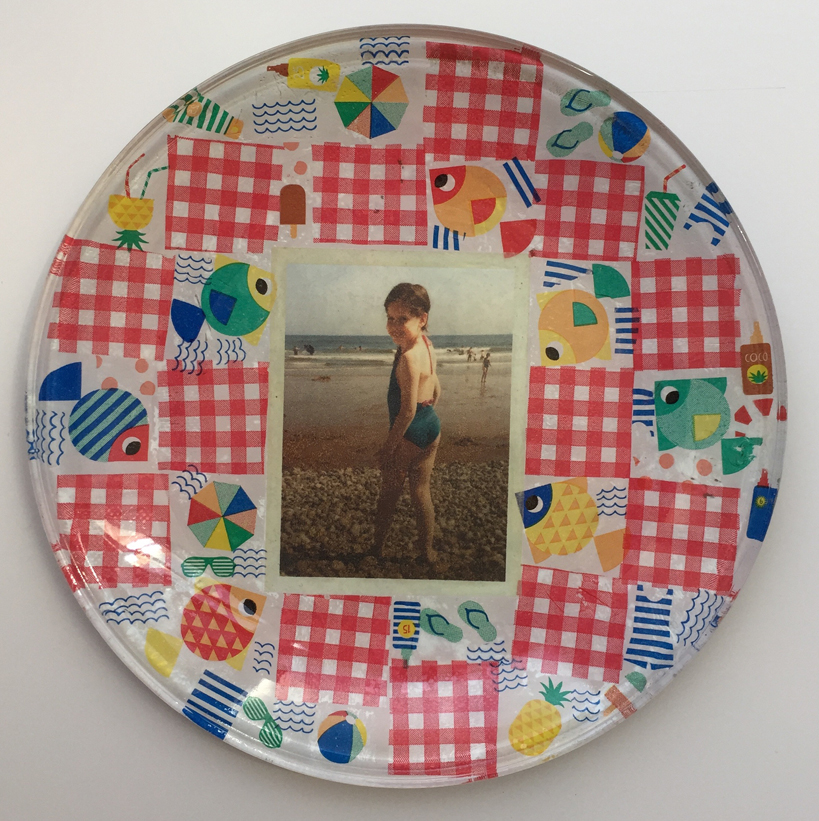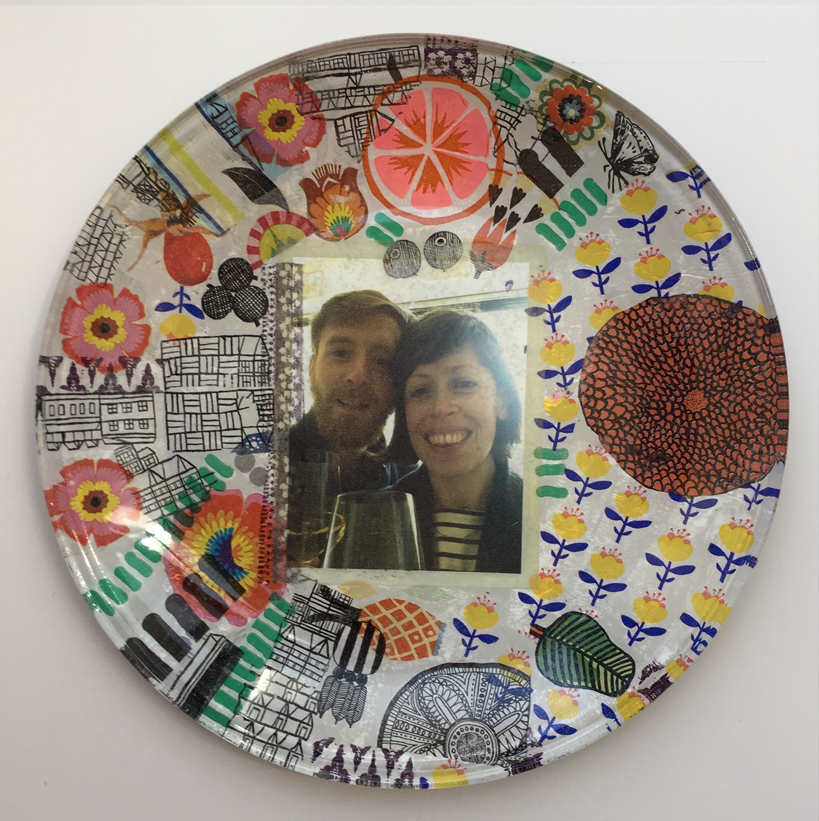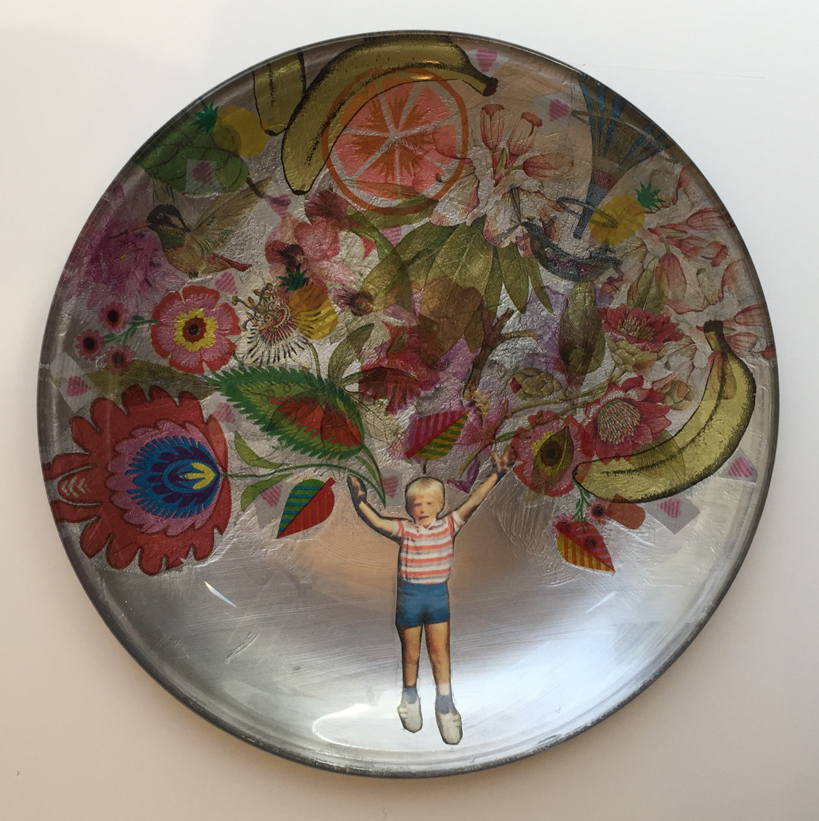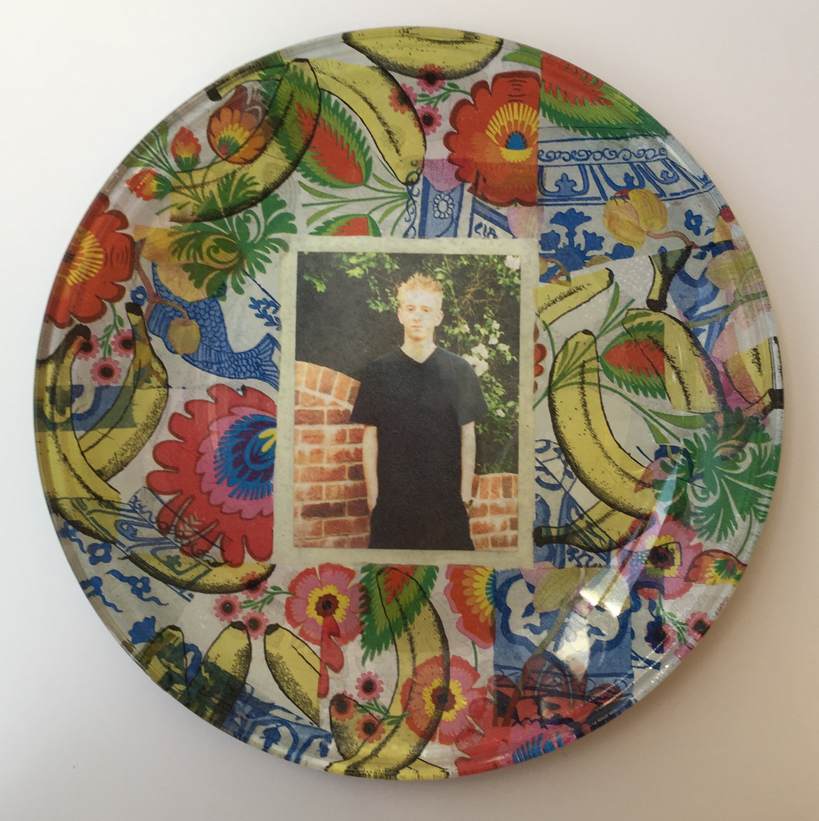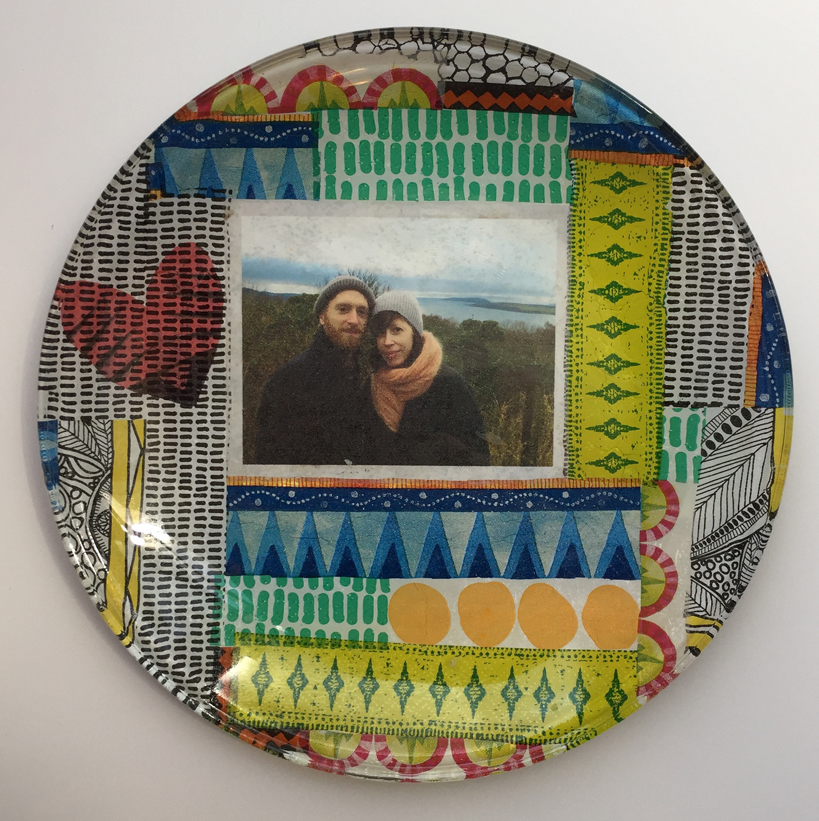 A creative workshop is a wonderful way to celebrate a special occasion. If you are planning a hen party, birthday celebration or corporate event and would like to find out what I can offer you, do get in touch for an informal chat. I can even come to you if my studio in Camberwell doesn't suit, or if you are organising an event for over 10 people.
ARTIST & MAKER
My work is often humorous and whimsical – unless my romantic side takes over and then we enter into a fairy-tale territory of old-fashioned script, pages of books and music scores populated by chivalrous gentlemen, glamorous ladies, butterflies and rabbits.
LEARN WITH ME
Would you like to explore your creative side? I use the wonderful techniques of decoupage and collage in much of my work, and now I can teach you how to create your very own masterpieces!
<blockquote class="instagram-media" data-instgrm-permalink="https://www.instagram.com/p/BgGQ5KJDyR3/" data-instgrm-version="8" style=" background:#FFF; border:0; border-radius:3px; box-shadow:0 0 1px 0 rgba(0,0,0,0.5),0 1px 10px 0 rgba(0,0,0,0.15); margin: 1px; max-width:658px; padding:0; width:99.375%; width:-webkit-calc(100% - 2px); width:calc(100% - 2px);"><div style="padding:8px;"> <div style=" background:#F8F8F8; line-height:0; margin-top:40px; padding:50.0% 0; text-align:center; width:100%;"> <div style=" background:url(data:image/png;base64,iVBORw0KGgoAAAANSUhEUgAAACwAAAAsCAMAAAApWqozAAAABGdBTUEAALGPC/xhBQAAAAFzUkdCAK7OHOkAAAAMUExURczMzPf399fX1+bm5mzY9AMAAADiSURBVDjLvZXbEsMgCES5/P8/t9FuRVCRmU73JWlzosgSIIZURCjo/ad+EQJJB4Hv8BFt+IDpQoCx1wjOSBFhh2XssxEIYn3ulI/6MNReE07UIWJEv8UEOWDS88LY97kqyTliJKKtuYBbruAyVh5wOHiXmpi5we58Ek028czwyuQdLKPG1Bkb4NnM+VeAnfHqn1k4+GPT6uGQcvu2h2OVuIf/gWUFyy8OWEpdyZSa3aVCqpVoVvzZZ2VTnn2wU8qzVjDDetO90GSy9mVLqtgYSy231MxrY6I2gGqjrTY0L8fxCxfCBbhWrsYYAAAAAElFTkSuQmCC); display:block; height:44px; margin:0 auto -44px; position:relative; top:-22px; width:44px;"></div></div><p style=" color:#c9c8cd; font-family:Arial,sans-serif; font-size:14px; line-height:17px; margin-bottom:0; margin-top:8px; overflow:hidden; padding:8px 0 7px; text-align:center; text-overflow:ellipsis; white-space:nowrap;"><a href="https://www.instagram.com/p/BgGQ5KJDyR3/" style=" color:#c9c8cd; font-family:Arial,sans-serif; font-size:14px; font-style:normal; font-weight:normal; line-height:17px; text-decoration:none;" target="_blank">A post shared by Gabriela Szulman Art (@gabrielaszulman)</a> on <time style=" font-family:Arial,sans-serif; font-size:14px; line-height:17px;" datetime="2018-03-09T09:57:35+00:00">Mar 9, 2018 at 1:57am PST</time></p></div></blockquote> <script async defer src="//www.instagram.com/embed.js"></script>