I recently discovered the iconic collages of graphic designer Dorrit Dekk, whose work features in the current Jewish Museum Exhibition "Designs on Britain" (on until 15 April 2018, admission £8.50). Her work is charming and humorous as well as deceptively simple, and it occurred to me that re-creating one of the posters she produced for P&O Cruises would provide an ideal introduction to collage for those who may not have tried this technique before.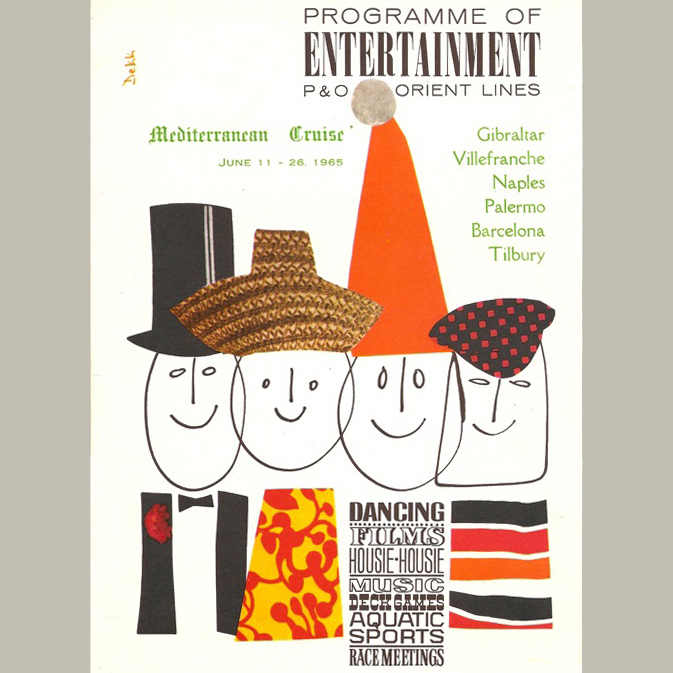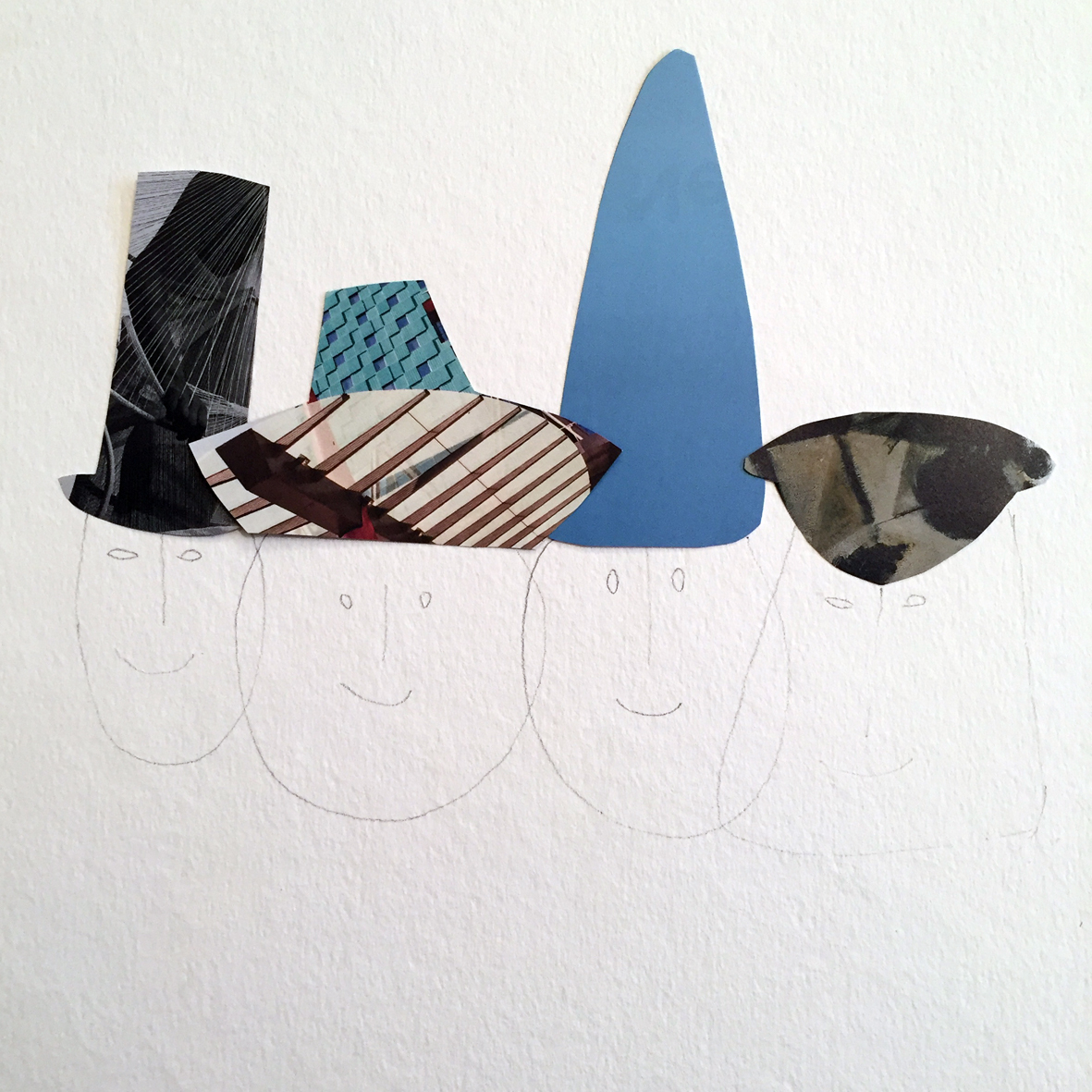 Start by drawing the faces in pencil on the watercolour paper, as these will determine the placement of the hats and clothes. Then cut the hats freehand from your bits of patterned paper. If you prefer, you can make templates from brown paper first just to make sure that everything fits nicely.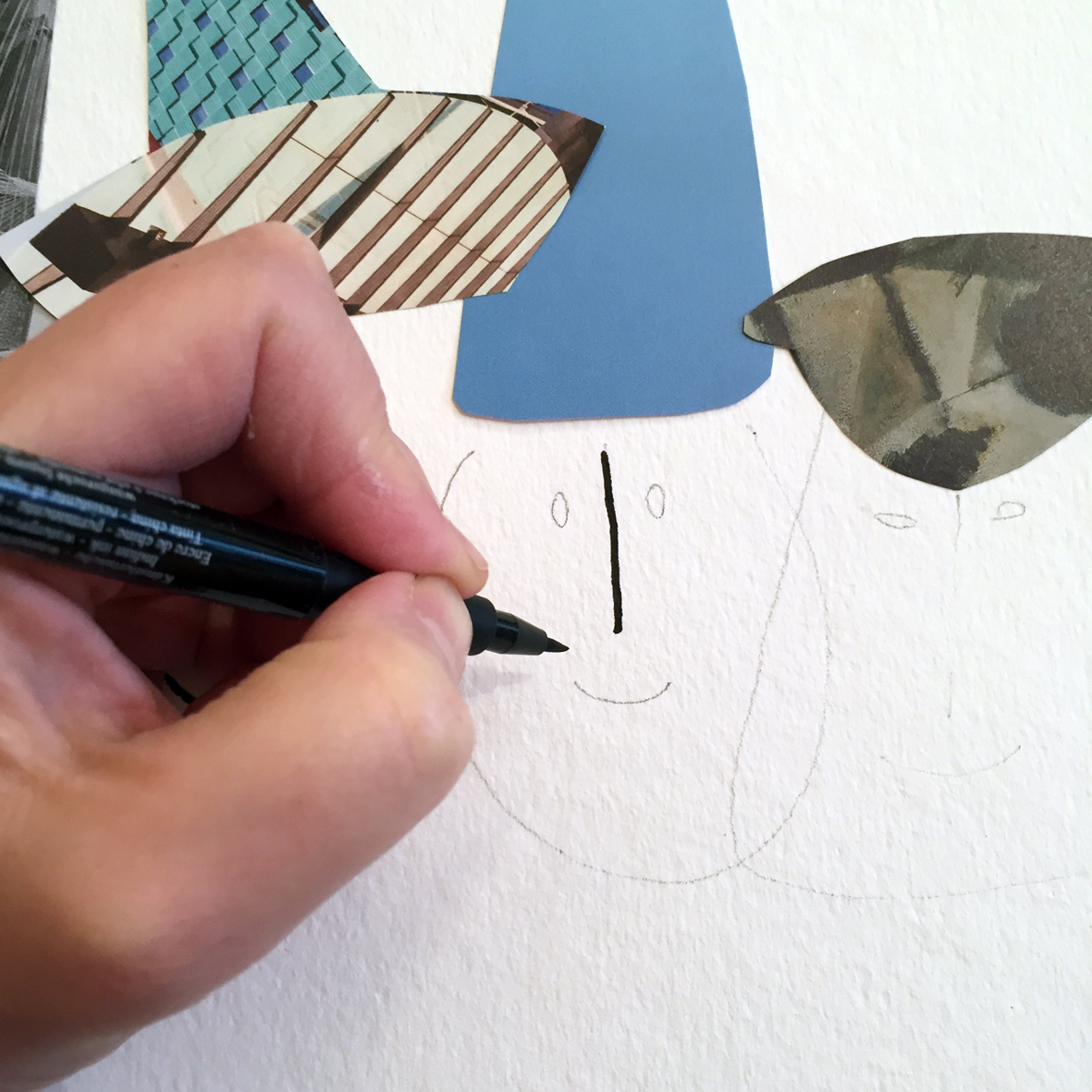 Next trace the face shapes in marker pen and glue the hats.
Now draw and cut the shapes for the clothes – again, you can do this on brown paper first and then when you're happy with the templates, use them to cut the patterned paper.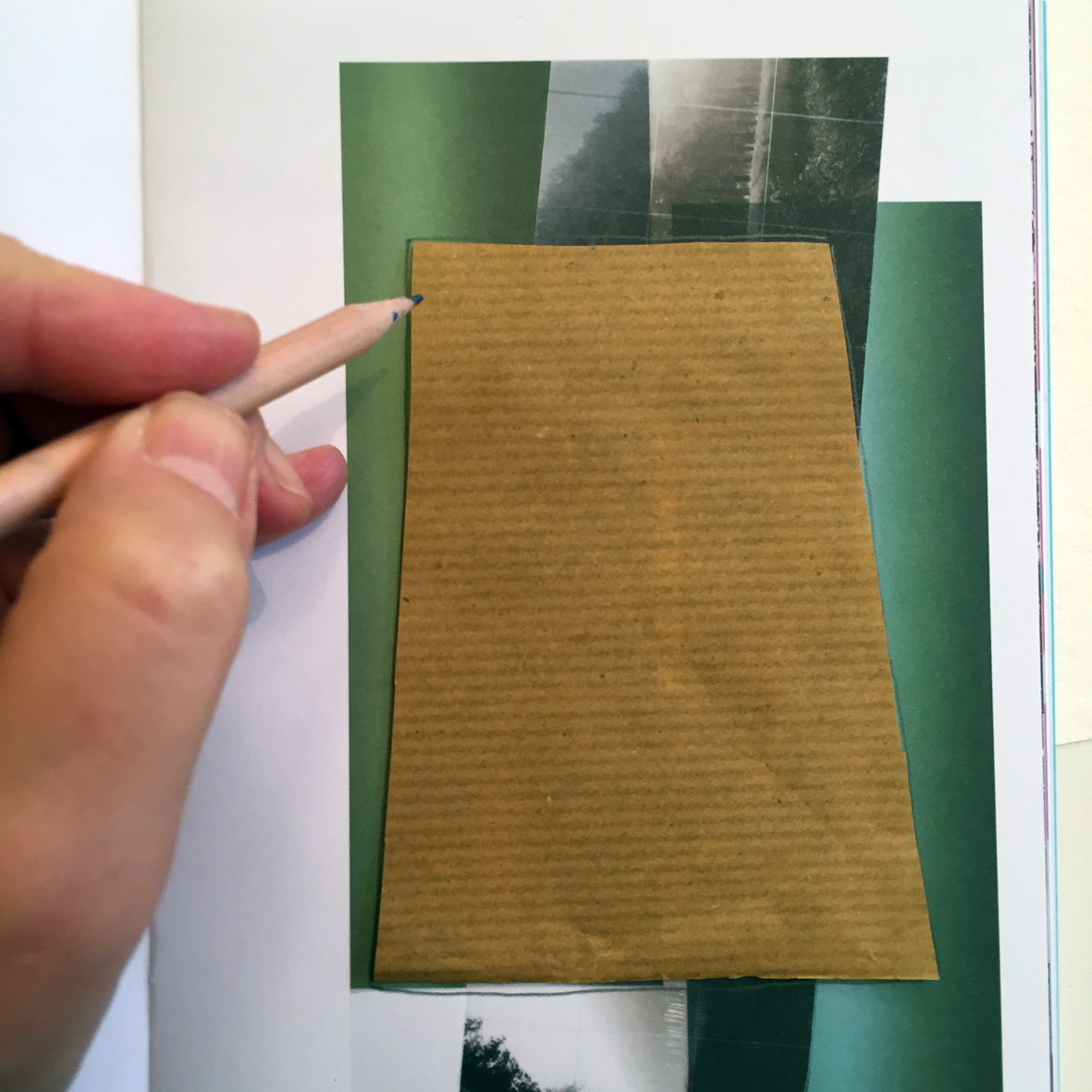 Arrange the shapes that make up the clothes, glue them on and you're done!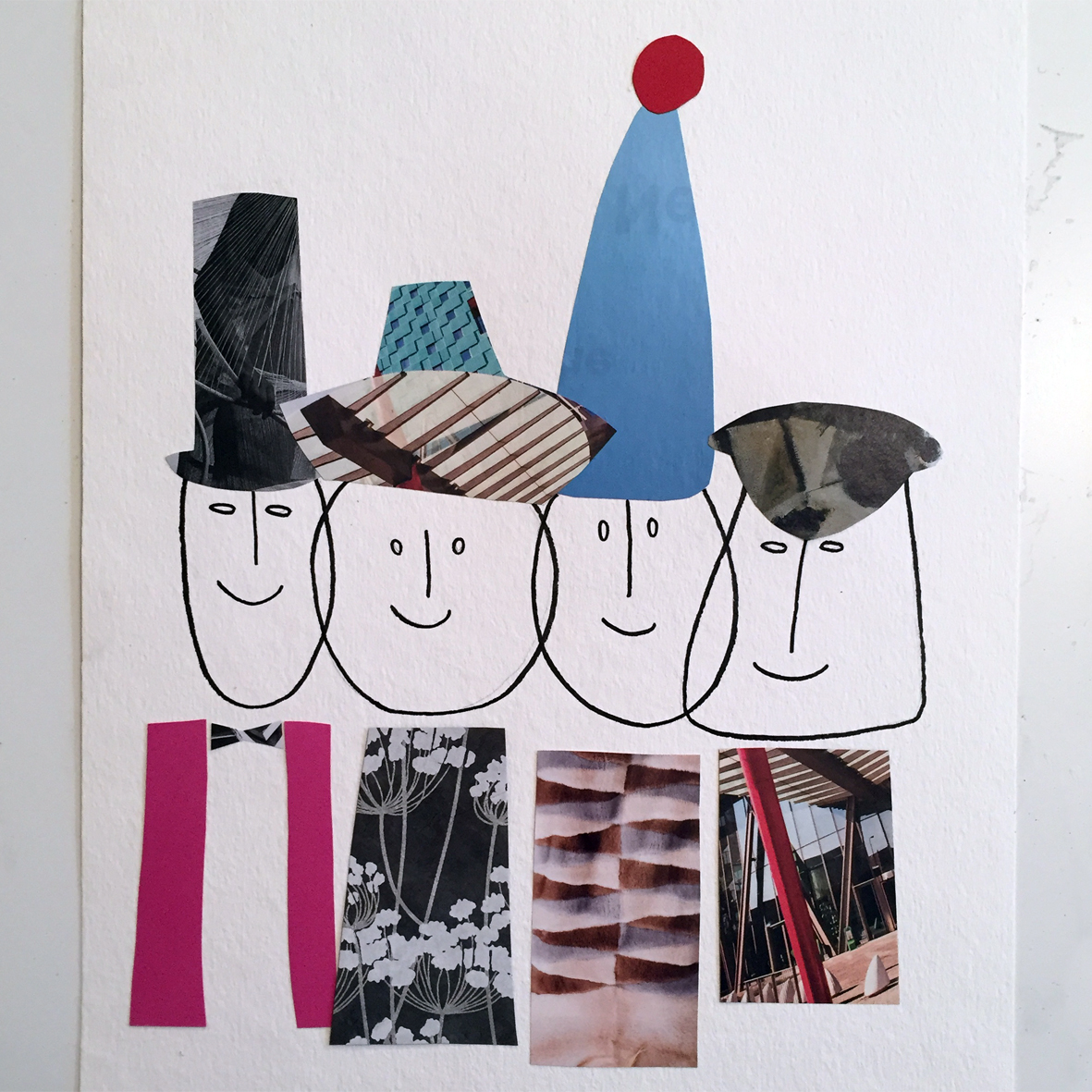 Below you can see two versions of the collage: the one on the left is slightly easier to create as each figure stands separately and there are no overlaps, but I think the one on the right, being closer to Dorrit's original, makes for a more effective design.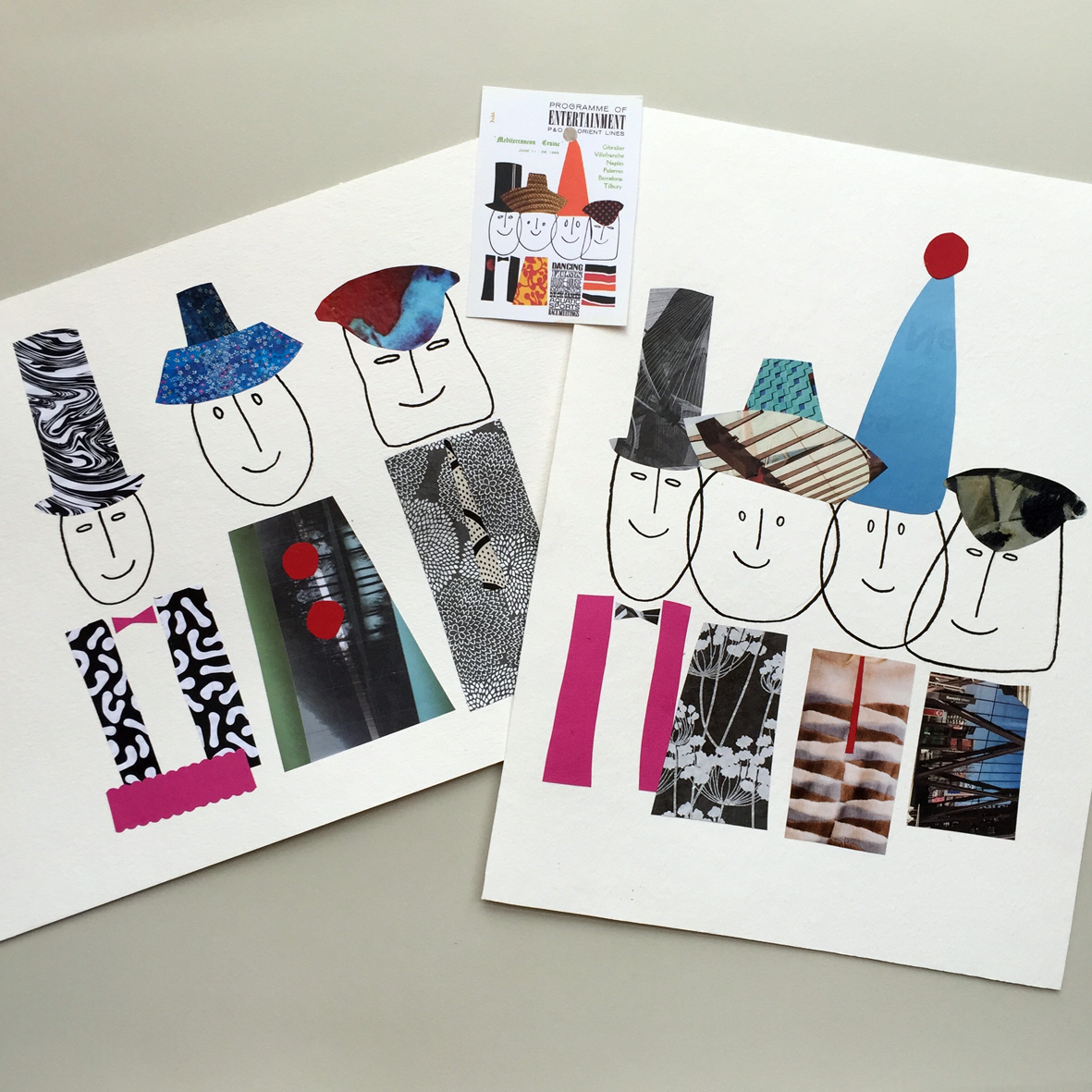 There is a special opportunity to explore the "Designs on Britain" exhibition and try your hand at collage with me on Saturday 20 January. You'll gain a fascinating insight into how Dorrit Dekk created her works using her unerring design skills while discovering top tips and techniques to get you making the most of collage.
My teaching approach makes this versatile technique accessible to all, and I'm certain that with the principles learned during the session you'll feel inspired to carry on experimenting at home.
Collage Poster Workshop, Jewish Museum London, Raymond Burton House
129-131 Albert Street, London NW1 7NB
Saturday 20 January 2018 2-4 pm
Cost: £49 including a tour of "Designs On Britain"
ARTIST & MAKER
My work is often humorous and whimsical – unless my romantic side takes over and then we enter into a fairy-tale territory of old-fashioned script, pages of books and music scores populated by chivalrous gentlemen, glamorous ladies, butterflies and rabbits.
LEARN WITH ME
Would you like to explore your creative side? I use the wonderful techniques of decoupage and collage in much of my work, and now I can teach you how to create your very own masterpieces!
<blockquote class="instagram-media" data-instgrm-permalink="https://www.instagram.com/p/BcN2su8nGit/" data-instgrm-version="8" style=" background:#FFF; border:0; border-radius:3px; box-shadow:0 0 1px 0 rgba(0,0,0,0.5),0 1px 10px 0 rgba(0,0,0,0.15); margin: 1px; max-width:658px; padding:0; width:99.375%; width:-webkit-calc(100% - 2px); width:calc(100% - 2px);"><div style="padding:8px;"> <div style=" background:#F8F8F8; line-height:0; margin-top:40px; padding:50.0% 0; text-align:center; width:100%;"> <div style=" background:url(data:image/png;base64,iVBORw0KGgoAAAANSUhEUgAAACwAAAAsCAMAAAApWqozAAAABGdBTUEAALGPC/xhBQAAAAFzUkdCAK7OHOkAAAAMUExURczMzPf399fX1+bm5mzY9AMAAADiSURBVDjLvZXbEsMgCES5/P8/t9FuRVCRmU73JWlzosgSIIZURCjo/ad+EQJJB4Hv8BFt+IDpQoCx1wjOSBFhh2XssxEIYn3ulI/6MNReE07UIWJEv8UEOWDS88LY97kqyTliJKKtuYBbruAyVh5wOHiXmpi5we58Ek028czwyuQdLKPG1Bkb4NnM+VeAnfHqn1k4+GPT6uGQcvu2h2OVuIf/gWUFyy8OWEpdyZSa3aVCqpVoVvzZZ2VTnn2wU8qzVjDDetO90GSy9mVLqtgYSy231MxrY6I2gGqjrTY0L8fxCxfCBbhWrsYYAAAAAElFTkSuQmCC); display:block; height:44px; margin:0 auto -44px; position:relative; top:-22px; width:44px;"></div></div><p style=" color:#c9c8cd; font-family:Arial,sans-serif; font-size:14px; line-height:17px; margin-bottom:0; margin-top:8px; overflow:hidden; padding:8px 0 7px; text-align:center; text-overflow:ellipsis; white-space:nowrap;"><a href="https://www.instagram.com/p/BcN2su8nGit/" style=" color:#c9c8cd; font-family:Arial,sans-serif; font-size:14px; font-style:normal; font-weight:normal; line-height:17px; text-decoration:none;" target="_blank">A post shared by Gabriela Szulman Art (@gabrielaszulman)</a> on <time style=" font-family:Arial,sans-serif; font-size:14px; line-height:17px;" datetime="2017-12-02T22:23:22+00:00">Dec 2, 2017 at 2:23pm PST</time></p></div></blockquote> <script async defer src="//www.instagram.com/embed.js"></script>