This is the fourth post of a series where I share transformations of simple items from Ikea using just paper and glue. This time I want to show you the first of two furniture hacks.
Ikea furniture is very affordable and even more so if you buy second-hand. There is often a good selection on 
Gumtree
 and if you buy a piece of furniture from a private seller the main advantage in my eyes is that it comes assembled rather than flat-packed! I just check that the structure is sound, as any superficial damage will be covered. The 
Hemnes
 bedside table that you see here costs £40 new, but I managed to buy two for £20 via Gumtree. 
Ebay
 and local house clearance or larger charity shops are also  good sources of items for furniture hacks.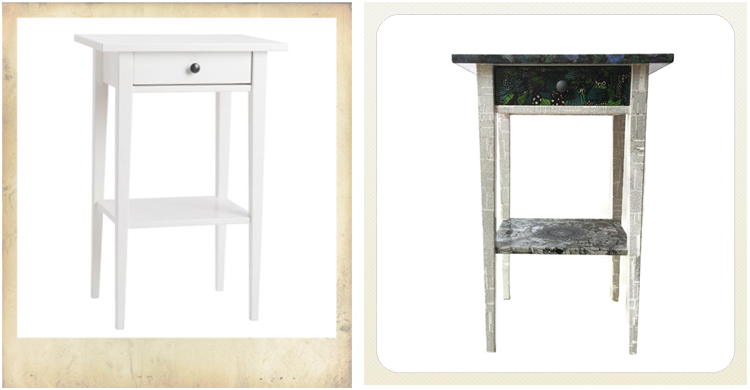 Below you can see four of the papers I used: patterned napkins for the top, drawer front and shelf, and book paper for the legs. Scroll up to the top of the page and you'll also see the Liberty design I used on the sides and back of the table.
I like the contrast of bold and modern with traditional floral patterns. As you can probably guess minimalism is not my thing!
Decoupage is a very economical way of upcycling a piece of furniture: it cost no more than £10 in materials to cover this table. The main things you need are time and patience, as something of this size may take you between two and three days. Of course it helps if you are proficient at the technique before you tackle your first furniture project, and if you would like to be shown all the tricks of the trade you may be interested in attending one of my 
Furniture Upcycling Workshops
.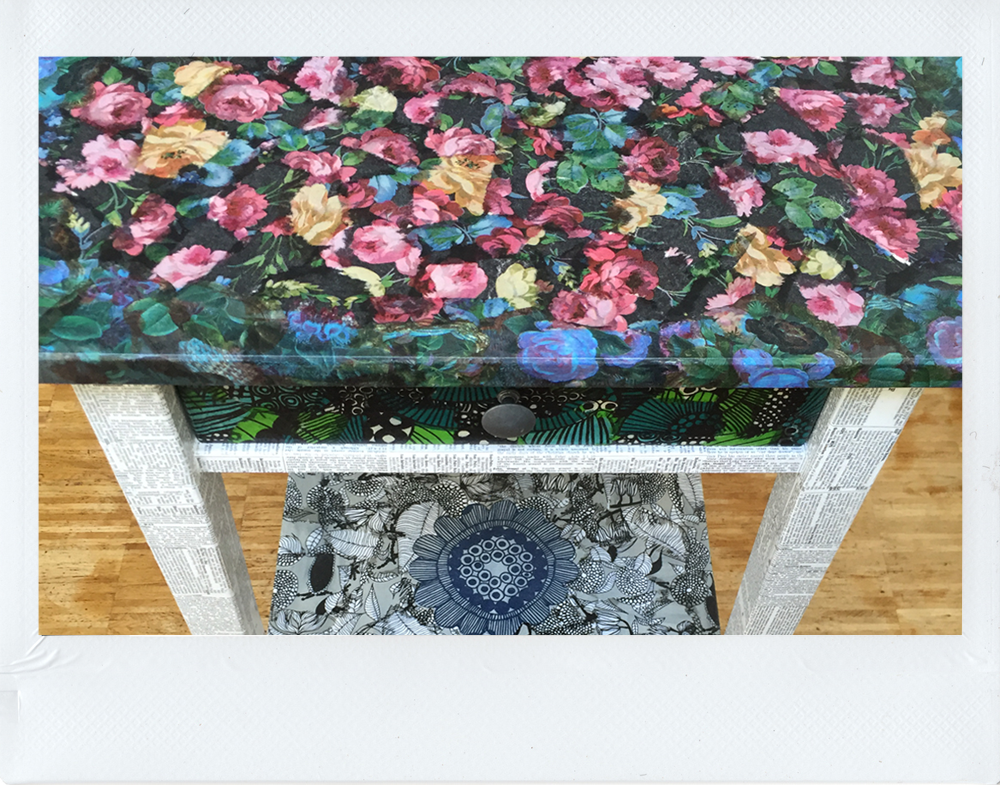 Did you miss the previous post? 
Last time
 I showed you how to add interest to 
Papaja plant pots 
using wallpaper cut-outs, a much shorter project than upcycling a piece of furniture.
Next time I will show you three very different transformations of a simple kitchen chair.
ARTIST & MAKER
My work is often humorous and whimsical – unless my romantic side takes over and then we enter into a fairy-tale territory of old-fashioned script, pages of books and music scores populated by chivalrous gentlemen, glamorous ladies, butterflies and rabbits.
LEARN WITH ME
Would you like to explore your creative side? I use the wonderful techniques of decoupage and collage in much of my work, and now I can teach you how to create your very own masterpieces!