On a grey February day, the unabashed colours and energetic shapes that characterise Josef Frank's patterns provided a welcome contrast with the outside, and it was a pleasure to walk into the Fashion and Textile Museum to visit this compact showcase of Frank's copious output.
Josef Frank, who trained as an architect in Vienna and emigrated to Stockholm in 1933, was an "anti-design designer", someone who embraced a myriad of eclectic influences and was more concerned with enriching daily life than with developing an identifiable style or being a slave to any of the "isms" of the day. His love of colour and pattern, through which he presented his dream of a better world, persists in designs that continue to be a mainstay of Swedish company Svenskt Tenn, and remain as contemporary, innovative and joyful today as they were during his lifetime.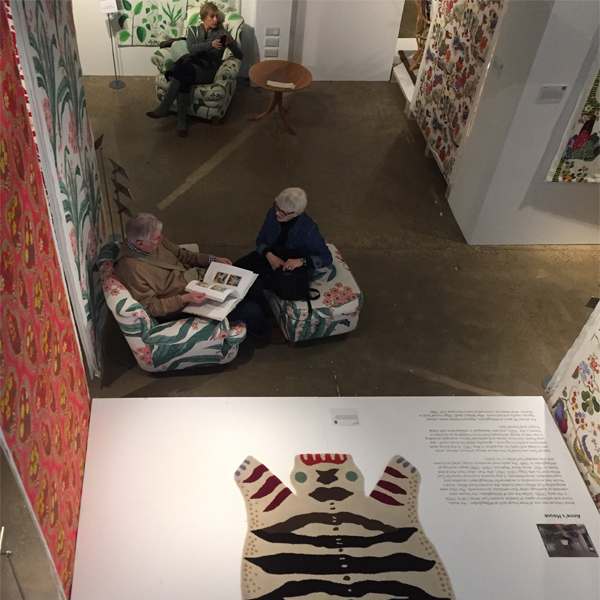 Above you can see some of the exhibition spaces: the showcase opens with a delightfully cosy room set that would probably make minimalists squirm with its pattern and colour combinations, while in the larger gallery a selection of the designer's patterns can be seen in their full glory on floor-to-ceiling banners and used as upholstery fabric on armchairs and ottomans.
Frank's patterns were inspired by elements from the natural world, maps, and even inorganic shapes.
The motif you see on the right is called "Aristidia" and was my favourite of the whole exhibition: I loved its deceptive simplicity and the brilliant use of so-called negative space which invites the eye to a constant shift of perspective between the dark and light. What is foreground and what is background? I guess it's up to each viewer to decide…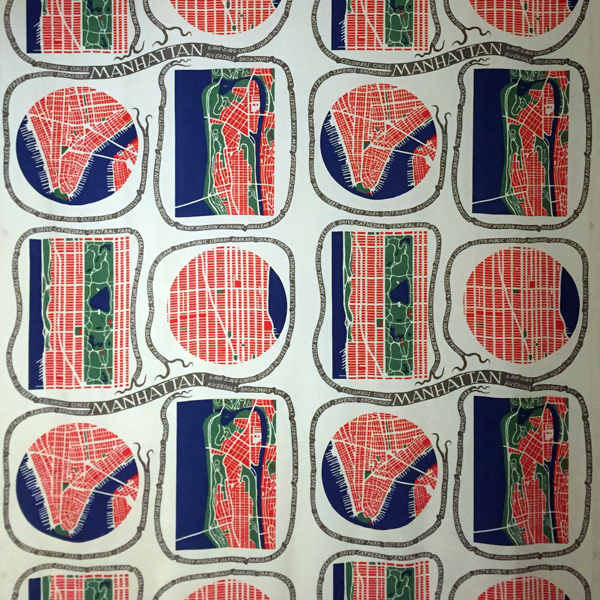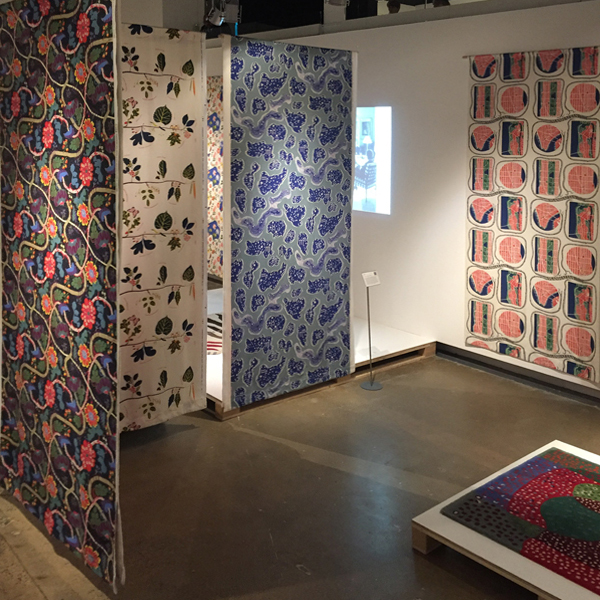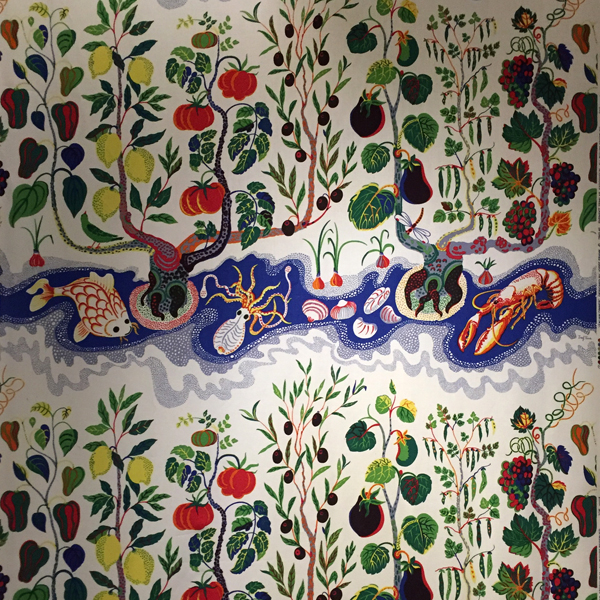 Above: "Manhattan" on the left and "Italian dinner" on the right also caught my eye: one with right-angle patterns inside geometric shapes and a restrained palette, the other exuberant with all the fish, shellfish, fruit and vegetables one would wish to have in a mediterranean banquet.
"Terrazzo", below, was based on mosaics of the kind one would see on Italian terraces – an inorganic pattern that nevertheless makes me think of slices of matter under a microscope .The Svensk Tenn tray version of this design is on my wish list!
As I was leaving the exhibition and stopped to admire the room set again, I was cheered to discover that Josef Frank was a fellow decoupage enthusiast. Take a look at the magnificent chest of drawers below, expertly papered with pages from a botanical specimens book.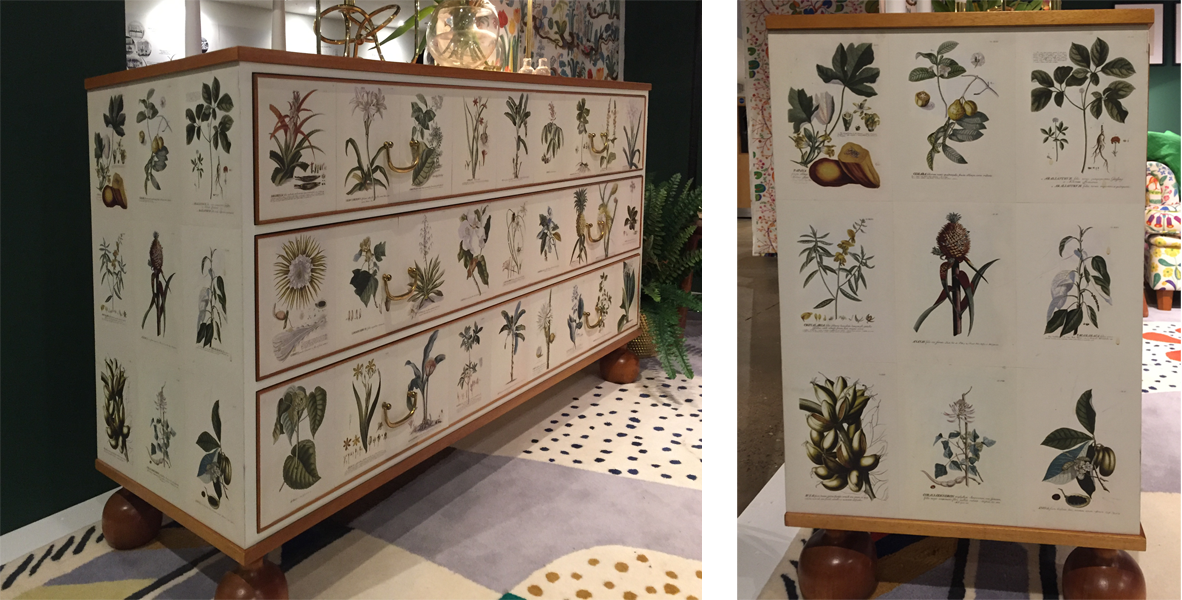 JOSEF FRANK Patterns-Furniture-Painting runs at the Fashion and Textile Museum, 83 Bermondsey Street, London SE1 3XF, until 7 May 2017. TICKETS: £9.90 adults / £7.70 concessions / £6 students / children under 12 free
ARTIST & MAKER
My work is often humorous and whimsical – unless my romantic side takes over and then we enter into a fairy-tale territory of old-fashioned script, pages of books and music scores populated by chivalrous gentlemen, glamorous ladies, butterflies and rabbits.
LEARN WITH ME
Would you like to explore your creative side? I use the wonderful techniques of decoupage and collage in much of my work, and now I can teach you how to create your very own masterpieces!
<blockquote class="instagram-media" data-instgrm-permalink="https://www.instagram.com/p/BgqWL-UnQ26/" data-instgrm-version="8" style=" background:#FFF; border:0; border-radius:3px; box-shadow:0 0 1px 0 rgba(0,0,0,0.5),0 1px 10px 0 rgba(0,0,0,0.15); margin: 1px; max-width:658px; padding:0; width:99.375%; width:-webkit-calc(100% - 2px); width:calc(100% - 2px);"><div style="padding:8px;"> <div style=" background:#F8F8F8; line-height:0; margin-top:40px; padding:50.0% 0; text-align:center; width:100%;"> <div style=" background:url(data:image/png;base64,iVBORw0KGgoAAAANSUhEUgAAACwAAAAsCAMAAAApWqozAAAABGdBTUEAALGPC/xhBQAAAAFzUkdCAK7OHOkAAAAMUExURczMzPf399fX1+bm5mzY9AMAAADiSURBVDjLvZXbEsMgCES5/P8/t9FuRVCRmU73JWlzosgSIIZURCjo/ad+EQJJB4Hv8BFt+IDpQoCx1wjOSBFhh2XssxEIYn3ulI/6MNReE07UIWJEv8UEOWDS88LY97kqyTliJKKtuYBbruAyVh5wOHiXmpi5we58Ek028czwyuQdLKPG1Bkb4NnM+VeAnfHqn1k4+GPT6uGQcvu2h2OVuIf/gWUFyy8OWEpdyZSa3aVCqpVoVvzZZ2VTnn2wU8qzVjDDetO90GSy9mVLqtgYSy231MxrY6I2gGqjrTY0L8fxCxfCBbhWrsYYAAAAAElFTkSuQmCC); display:block; height:44px; margin:0 auto -44px; position:relative; top:-22px; width:44px;"></div></div><p style=" color:#c9c8cd; font-family:Arial,sans-serif; font-size:14px; line-height:17px; margin-bottom:0; margin-top:8px; overflow:hidden; padding:8px 0 7px; text-align:center; text-overflow:ellipsis; white-space:nowrap;"><a href="https://www.instagram.com/p/BgqWL-UnQ26/" style=" color:#c9c8cd; font-family:Arial,sans-serif; font-size:14px; font-style:normal; font-weight:normal; line-height:17px; text-decoration:none;" target="_blank">A post shared by Gabriela Szulman Art (@gabrielaszulman)</a> on <time style=" font-family:Arial,sans-serif; font-size:14px; line-height:17px;" datetime="2018-03-23T10:02:50+00:00">Mar 23, 2018 at 3:02am PDT</time></p></div></blockquote> <script async defer src="//www.instagram.com/embed.js"></script>