This is the third and last post on my recent visit to
Casa Azul
, the building in Coyoacán that was Frida Kalho's home from birth till death, and is now a museum devoted to her life and art. Two weeks ago I wrote about
Frida's studio
and last time
I showed you part of her collection of ex-votos
. Now I want to share some of the highlights from a special exhibition at the museum which showcases her clothing, accessories and orthopaedic artifacts alongside her influence on contemporary fashion. The contents of Frida's wardrobe have only on public display since 2012: her husband Diego Rivera requested that they be locked away for 15 years after her death – in actual fact they were out of view for 50 years thanks to an overzealous family friend – and it took a further eight years to catalog them.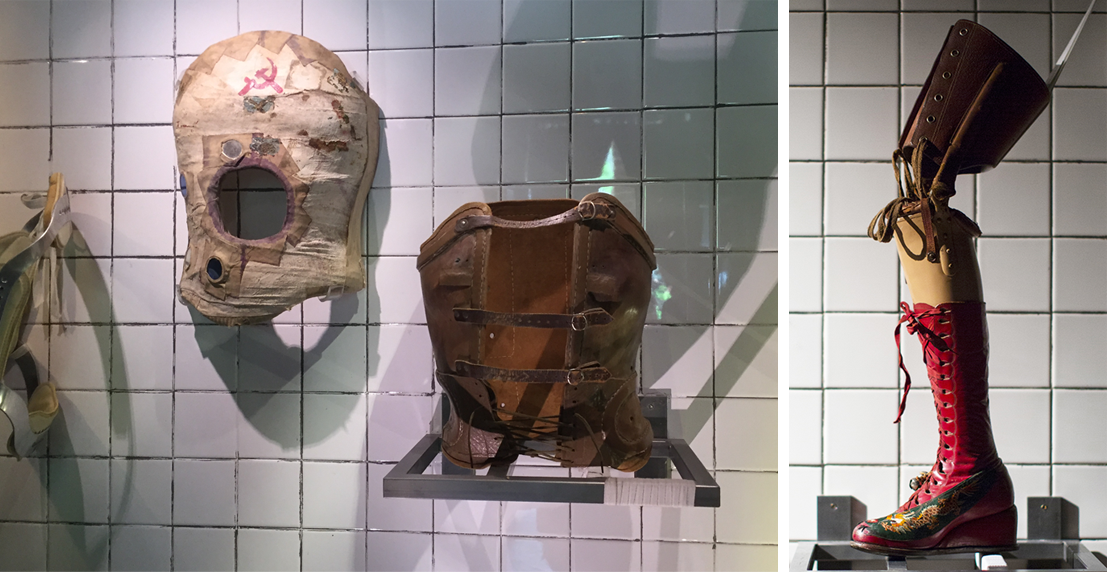 The exhibition starts with origins: Frida's disability wall. All her orthopedic devices are displayed on this tiled wall – a reminder of the bathroom where these objects were discovered. Frida's prosthetic artifacts are really important because she struggled with her right leg for most of of her life: she had some 30 surgical interventions after the traffic accident she suffered when she was 18 and had to wear a series of plaster-cast and leather corsets to help her sustain her body for most of her life. The surgeries she underwent were concentrated between her spine and her right leg area, until the point when she had her leg amputated in 1953. She never recovered from this and it's said she fell into a deep depression with the loss of her leg. It took her three months to be able to walk with the prosthetic leg we see above on the right. The red boot is her original prosthetic leg, and you can see how avant-garde she was just by looking at this beautiful and contemporary-looking object. She used a platform shoe with Chinese embroidery and a little bell – it was her way of saying "why does it have to be ugly?" and making it part of her unique style.
The second room of the exhibition contains a display of Frida's accessories in two floor-to-ceiling "cabinets of curiosities". Here we see her head-dresses, chunky necklaces and extremely chic sunglasses among other fabulous things that she used to compose her characteristic "look".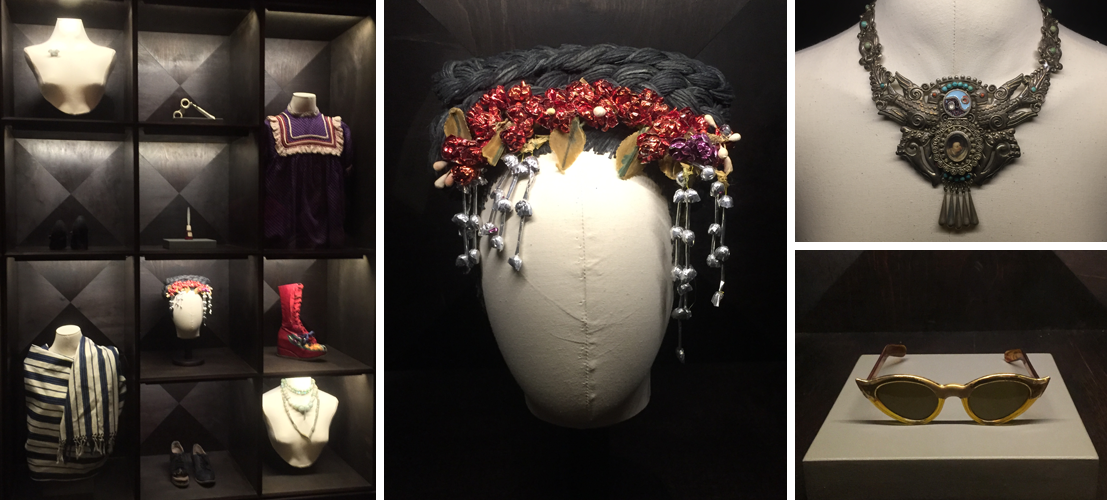 Frida's clothes are at the centre of the exhibition, and while there are some who say that Diego "made" Frida dress in a traditional Mexican style, there is also an alternative view that sees this as very much her choice. It certainly was a way of making her stand out next to her husband, who was not just big in the physical sense of the word but also very famous and a key player in the international art world by the time they were married. Through her dress, Frida became the centre of attention and claimed the limelight for herself.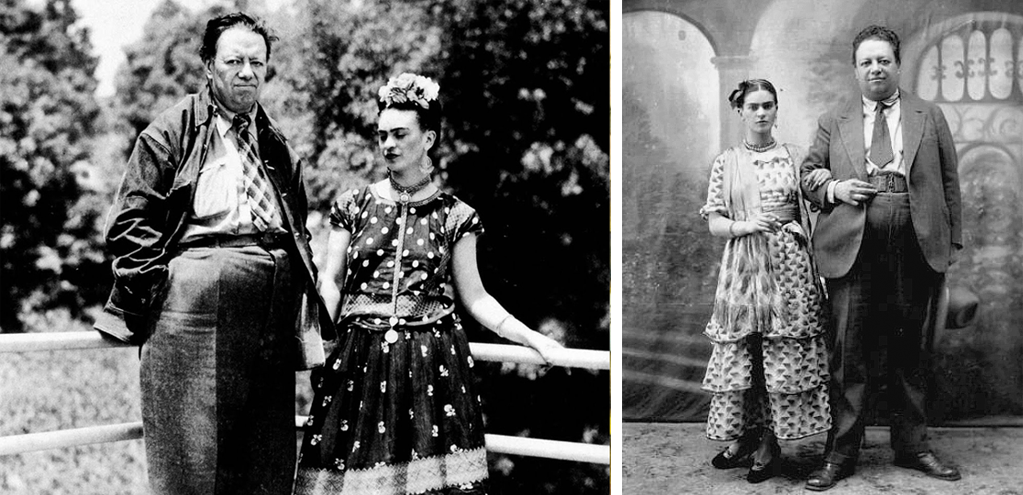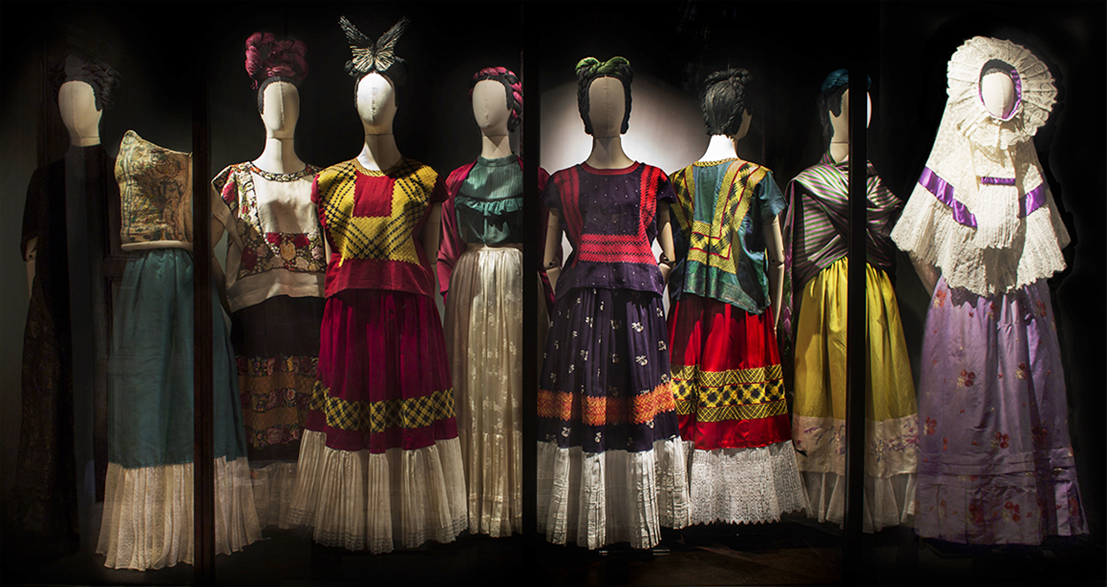 It is important to note that Frida didn't just choose any dress from Mexico: she chose a dress that symbolizes a very powerful and independent woman. The Tehuana dress comes from the Tehuantepec Isthmus, within the state of Oaxaca in the southeast of Mexico. Tehuantepec is a matriarchal society where women dominate the culture and administer the society. By dressing in this way, Frida was also making a statement about her socialist political beliefs and her strong  Mexican cultural identity: she wanted to be seen as "one of the people". At the time, the popular style was to dress like people in Hollywood or in Europe so she looked extremely unusual both at home and abroad: nobody else looked like Frida, she was a real one-off.
The construction of the dress is very important too, because adornment is concentrated from the torso up, with the jewellery and the headpiece and the flowers and ribbons: the perfect arrangement to disguise Frida's imperfections in her lower body. When we look at her we concentrate on her face and torso, distracting from her legs, which are covered with the long skirt, and her broken body, underneath a corset. So the main thing in terms of structure is that the basic construction of the Tehuana dress – adornment on the head, a short blouse and a long skirt – is the form she always built from, whether she was wearing a Mexican skirt or a European blouse or a combination of both.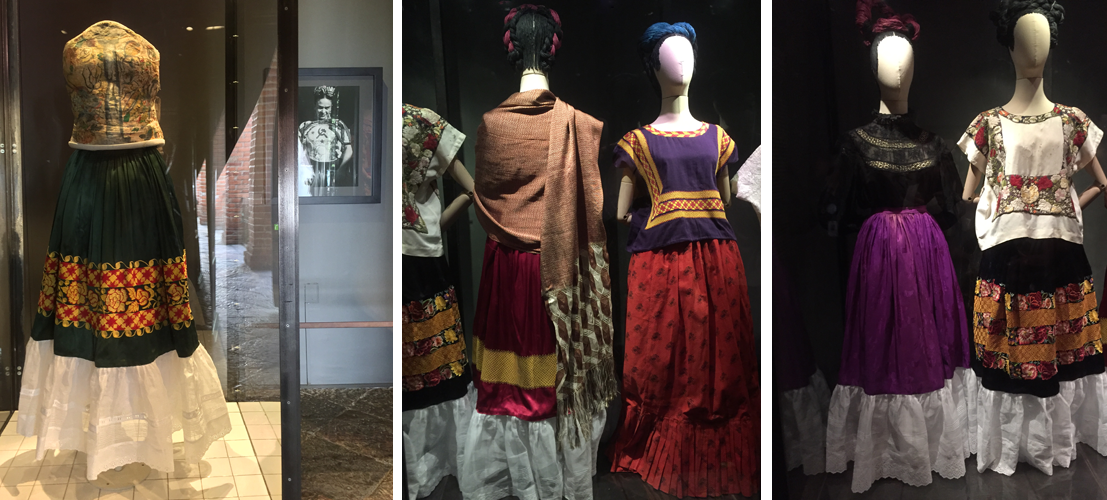 Frida's influence on fashion started during her lifetime: in 1937, during a visit to Paris to attend an exhibition of Mexican art which included some of her work, she was featured in the pages of Vogue magazine wearing a blue blouse and white skirt, next to an enourmous agave plant. A couple of years later, in 1939, couturier Elsa Schiaparelli created a dress in her honor, called "La robe Madame Rivera".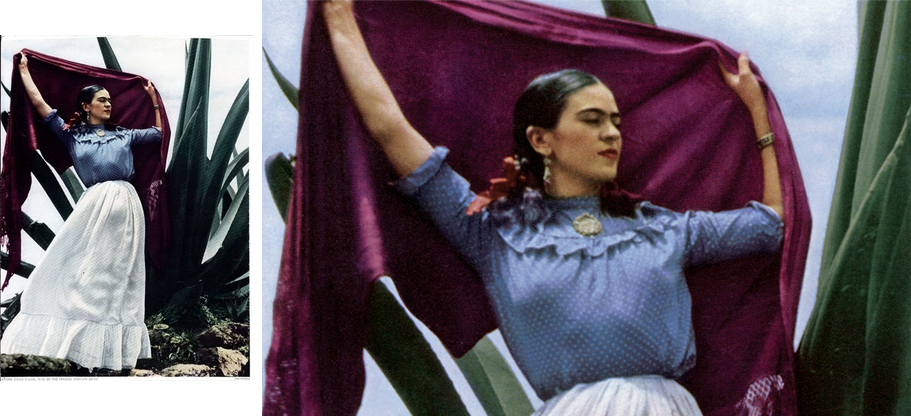 Since that first appearance in the pages of Vogue, there have been countless examples of Frida-inspired creations on the runways all over the world. Below you can see three examples from the world of contemporary fashion which are showcased in the exhibition:
From left to right –
Jean Paul Gaulthier 2004: orthopaedic corset in salmon worn over a short dress with a flesh-coloured silk ruffle printed with brown freckles.
Dai Rees 2012: corset bodice in natural tanned leather and waxed cotton, constructed from a flat pattern and hand shaped wet moulding
Comme des Garcons 2012: blouse and skirt in tetron lace and silk satin rayon worn with a birdcage skirt and corset in nylon tricot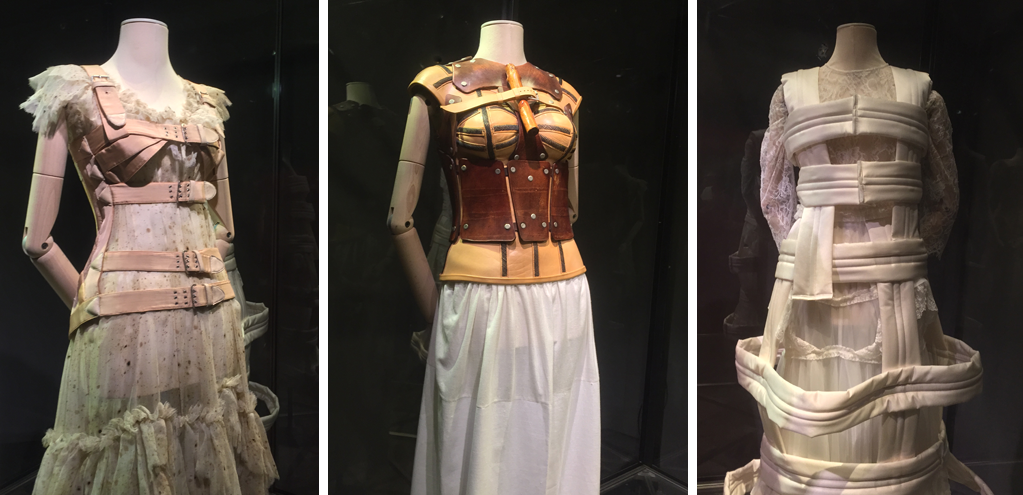 Frida said "I am my own muse. I am the subject I know best". Her artistic output was almost always starkly autobiographical: she painted her own reality, reclaiming it, reflecting it and re-living it. Frida's very individual style is part of her art: she was not a follower of fashion but a creator who understood fashion as the art of being rather than just a feature of outer appearance. Through her unique visual identity she made strong statements about culture, politics and womanhood. These are the things that have made her one of the most iconic women of the 20th century, whose influence remains strong and current to this day, over 60 years after her death.
ARTIST & MAKER
My work is often humorous and whimsical – unless my romantic side takes over and then we enter into a fairy-tale territory of old-fashioned script, pages of books and music scores populated by chivalrous gentlemen, glamorous ladies, butterflies and rabbits.
LEARN WITH ME
Would you like to explore your creative side? I use the wonderful techniques of decoupage and collage in much of my work, and now I can teach you how to create your very own masterpieces!