The current Jewish Museum Exhibition "Designs on Britain" (on until 15 April 2018, admission £8.50) features the work of several pioneering Jewish émigré designers who arrived in this country from continental Europe in the first half of the twentieth century, the great majority of them as refugees from nazism. As a fan of poster design, I was thrilled to discover the work of printmaker and painter Dorrit Dekk, whose whimsical and elegant designs graced the covers of Penguin books and Tatler magazine and were used to convey messages that ranged from public health warnings and the benefits of savings accounts to the delights of exotic travel. Indeed, so central to her career were the posters she created for P&O Cruises, Air France and London Transport, that she became known as "the queen of travel".
Below, a photo of smiley Dorrit with a design she created for the Post Office Savings Bank, the strapline of which ('All you need is love') is believed to have provided the inspiration for John Lennon's eponymous Beatles song!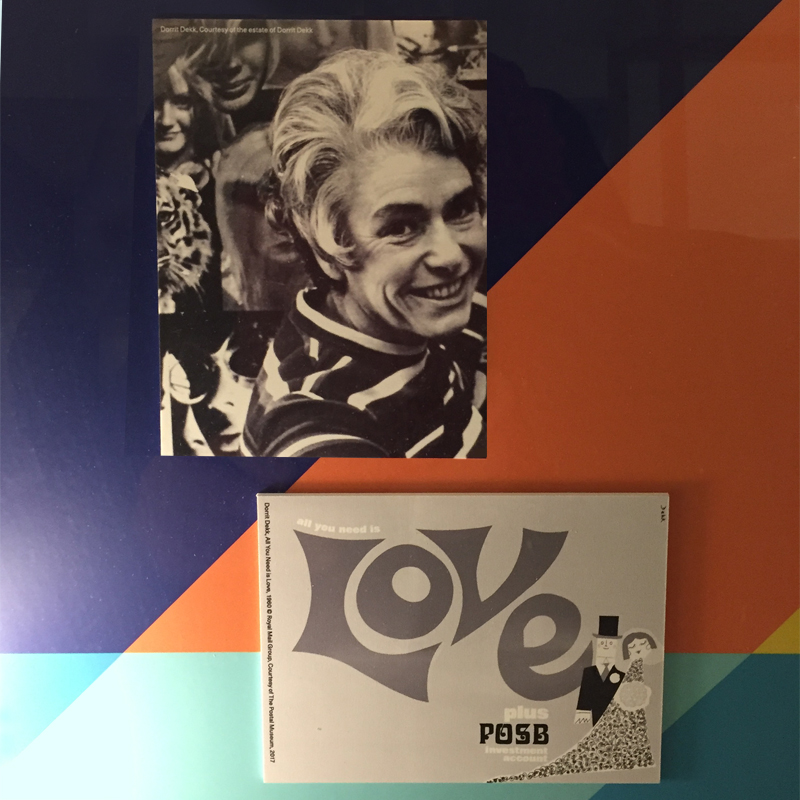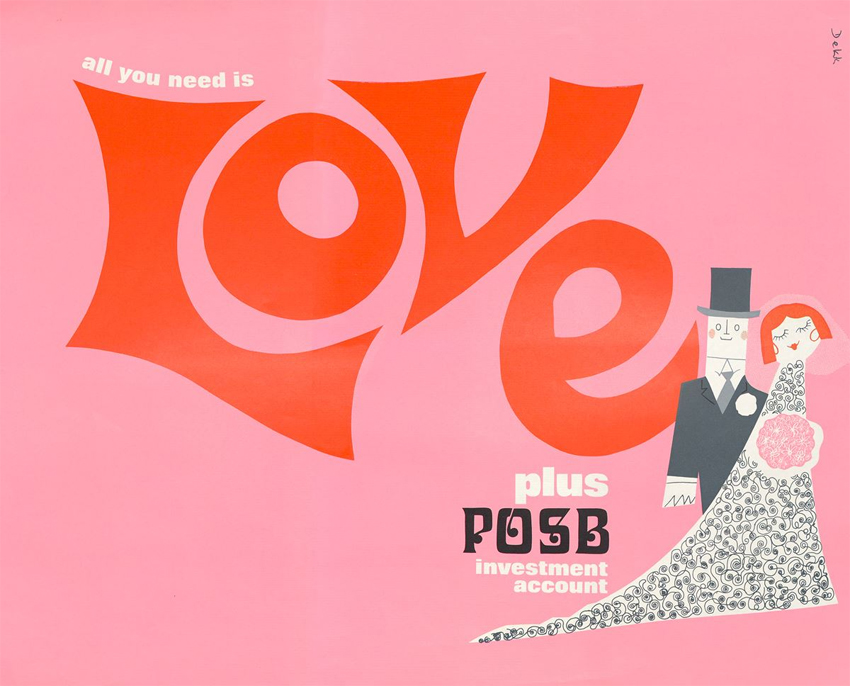 Dorrit Dekk escaped to London in 1938, and joined the Women's Royal Naval Service during the war as a 'listener' taking down coded messages which were then deciphered at Bletchley Park. After the war she worked for the Central Office of Information, and the 1947 poster below is an example of that era: in an attempt to raise the morale of the post-war labour force and present the essential rebuilding works as heroic, workers are shown standing proudly on a winged plank of wood which has both angelic and aeronautical connotations.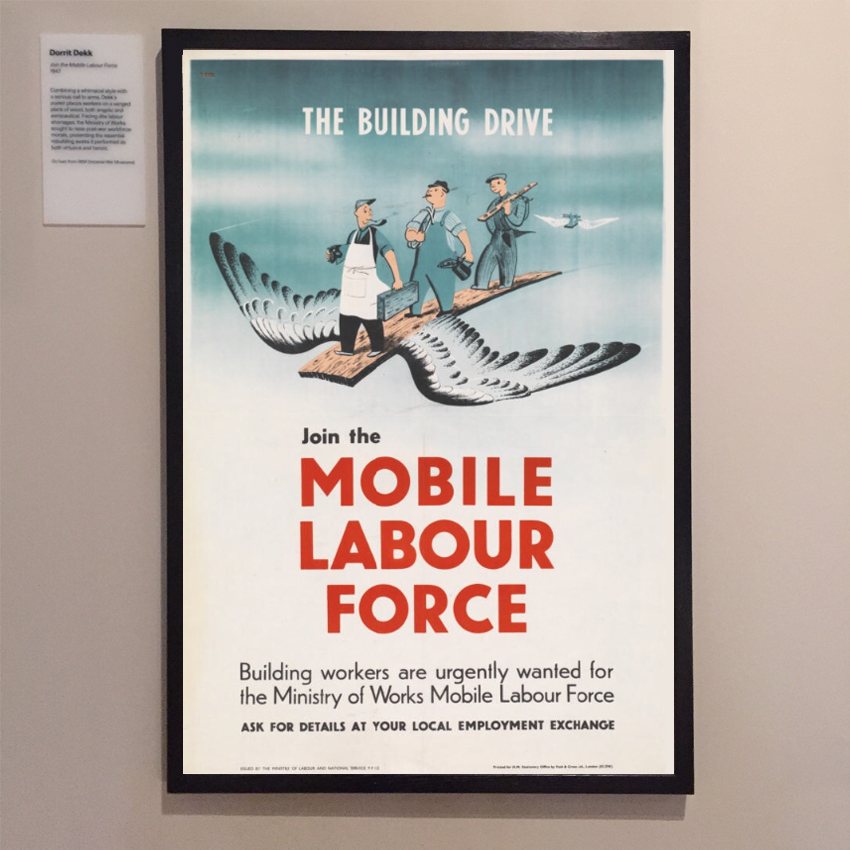 Dorrit Dekk was an admirer of collage artists such as Kurt Schwitters, and she used this deceptively simple technique with characteristic flair in her design and advertising work. Among many other things, she created menu cards, entertainment programmes and posters for cruise line P&O, several of which can be seen in the exhibition.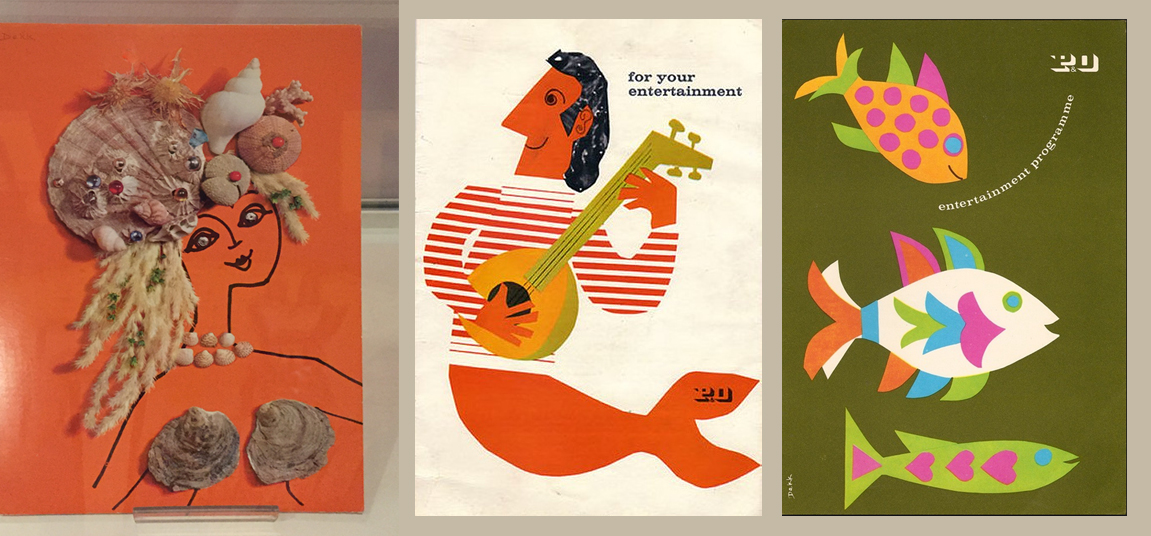 If you read my collage tutorial here a couple of weeks ago, you may remember I used this image as an introduction to the technique, as it is such a prime example of a very effective motif  which emerges from just a few elements: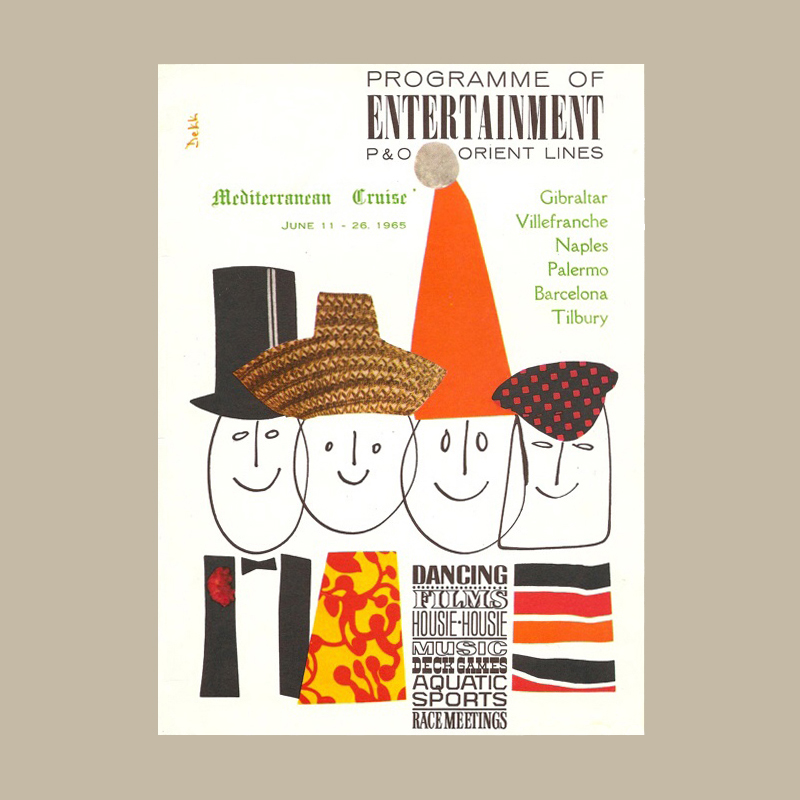 'Designs of Britain' at The Jewish Museum is a must-see: a vibrant celebration of the vital role of émigré artists and designers on twentieth century British design. There is a special opportunity to explore the exhibition and try your hand at collage with me on Saturday 20 January. Join me at this one-off event and gain a fascinating insight into how Dorrit Dekk created her works using her unerring design skills while discovering top tips and techniques to get you making the most of collage.
My teaching approach makes this versatile technique accessible to all, and I'm certain that with the principles learned during the session you'll feel inspired to carry on experimenting at home.
Collage Poster Workshop, Jewish Museum London, Raymond Burton House
129-131 Albert Street, London NW1 7NB
Saturday 20 January 2018 2-4 pm
Cost: £49 including a tour of "Designs On Britain"
ARTIST & MAKER
My work is often humorous and whimsical – unless my romantic side takes over and then we enter into a fairy-tale territory of old-fashioned script, pages of books and music scores populated by chivalrous gentlemen, glamorous ladies, butterflies and rabbits.
LEARN WITH ME
Would you like to explore your creative side? I use the wonderful techniques of decoupage and collage in much of my work, and now I can teach you how to create your very own masterpieces!
<blockquote class="instagram-media" data-instgrm-permalink="https://www.instagram.com/p/Bh_s4YCgZl-/" data-instgrm-version="8" style=" background:#FFF; border:0; border-radius:3px; box-shadow:0 0 1px 0 rgba(0,0,0,0.5),0 1px 10px 0 rgba(0,0,0,0.15); margin: 1px; max-width:658px; padding:0; width:99.375%; width:-webkit-calc(100% - 2px); width:calc(100% - 2px);"><div style="padding:8px;"> <div style=" background:#F8F8F8; line-height:0; margin-top:40px; padding:50.0% 0; text-align:center; width:100%;"> <div style=" background:url(data:image/png;base64,iVBORw0KGgoAAAANSUhEUgAAACwAAAAsCAMAAAApWqozAAAABGdBTUEAALGPC/xhBQAAAAFzUkdCAK7OHOkAAAAMUExURczMzPf399fX1+bm5mzY9AMAAADiSURBVDjLvZXbEsMgCES5/P8/t9FuRVCRmU73JWlzosgSIIZURCjo/ad+EQJJB4Hv8BFt+IDpQoCx1wjOSBFhh2XssxEIYn3ulI/6MNReE07UIWJEv8UEOWDS88LY97kqyTliJKKtuYBbruAyVh5wOHiXmpi5we58Ek028czwyuQdLKPG1Bkb4NnM+VeAnfHqn1k4+GPT6uGQcvu2h2OVuIf/gWUFyy8OWEpdyZSa3aVCqpVoVvzZZ2VTnn2wU8qzVjDDetO90GSy9mVLqtgYSy231MxrY6I2gGqjrTY0L8fxCxfCBbhWrsYYAAAAAElFTkSuQmCC); display:block; height:44px; margin:0 auto -44px; position:relative; top:-22px; width:44px;"></div></div><p style=" color:#c9c8cd; font-family:Arial,sans-serif; font-size:14px; line-height:17px; margin-bottom:0; margin-top:8px; overflow:hidden; padding:8px 0 7px; text-align:center; text-overflow:ellipsis; white-space:nowrap;"><a href="https://www.instagram.com/p/Bh_s4YCgZl-/" style=" color:#c9c8cd; font-family:Arial,sans-serif; font-size:14px; font-style:normal; font-weight:normal; line-height:17px; text-decoration:none;" target="_blank">A post shared by Gabriela Szulman Art (@gabrielaszulman)</a> on <time style=" font-family:Arial,sans-serif; font-size:14px; line-height:17px;" datetime="2018-04-25T13:36:35+00:00">Apr 25, 2018 at 6:36am PDT</time></p></div></blockquote> <script async defer src="//www.instagram.com/embed.js"></script>